14th Spa Birthday Party
by Val
(USA)
What activities can I do for my 14th spa birthday party besides manicures, pedicures,


and facial masks?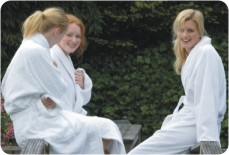 Teen Spa Birthday Party Response:
Unless you have a sauna, jacuzzi, or someone to give massages to the girls, that about sums up the available spa treatments that can be experienced at home.
There are
mobile spas
that will come to your home
(depending on where you live)
and give various spa treatments. They can, however, be pricey.
If you need to keep the cost down and want to do something different then the treatments you noted, you could try
homemade bodywraps.
You'll have to get the girls to wear old bikinis for that and bring large towels to wrap themselves in to keep in the heat of whatever body wrap concoction you decide to whip up. Then, you could all relax in a dimly lit room with candles burning and soft music playing, and allow the special body clay, mud, or lotion you applied to work it's magic.
You could also make
homemade spa products
for your party. There are tons of recipes online that can be made with things you have around the house. Get pretty bottles so the girls can bring their creations home in a memorable way. Label the bottles with homemade stickers or use nail polish or permanent markers to draw right on them. Have some pretty ribbon on hand to tie around the bottles also.
How about trying some kind of hair treatment? Then you could all do each other's hair afterward and take some glam shots.
You could play
conversation games
and eat dainty finger foods... a chocolate fountain or chocolate fondue is always a nice touch for a spa party. I also have a
spa trivia
I haven't added to my site yet, if you're interested.
Soft lighting, candles, and relaxing music create a spa mood so be sure to include any or all of those things. Ask your friends to come in their favorite bathrobes even. Make some fancy drinks and serve them in pretty glasses.
If you have any additional questions, please use the comment box below.
Wendy