General Knowledge Christmas Trivia
Christmas calls for so many cosy get-togethers with friends and family and Christmas trivia is the perfect game to get everyone involved. Gather around the fireplace, sip on some hot cocoa, and compete to find out who knows the most about Christmas.

---
Christmas Trivia Questions

01. What did Pierce Egan add to the basic eggnog recipe when he created a variation of eggnog called "Tom and Jerry."
a. 2 tablespoons of vanilla ice cream
b. 1/2 oz of brandy
c. 1/2 oz of whiskey
d. 3 tablespoons of cream
02. In what year did the US postal System issue its first Christmas stamp?
a. 1942
b. 1952
c. 1962
d. 1972
03. How many times is the name Santa Clause used in "the Night Before Christmas"?
a. 0
b. 2
c. 5
d. 7
04. What two reindeers are mentioned in the song "Here Comes Santa Claus"?
a. Dancer and Prancer
b. Donder and Blixen
c. Vixen and Blixen
d. Comet and Cupid
05. What country started the gift exchange tradition?
a. Italy
b. The Netherlands
c. Greece
d. Israel
06. In "Gift of the Magi", how much did Della get for her hair?
a. $10
b. $17
c. $20
d. $21
07. Who wrote "The Night Before Christmas"?
a. Peter Collington
b. Clement Moore
c. Chris Van Allsburg
d. Raymond Briggs
08. What was the first artificial tree made of?
a. Glass
b. Plastic
c. Feathers
d. Silk
09. What musical instrument was "Silent Night" first played on?
a. Guitar
b. Organ
c. Flute
d. Harp
10. Which of the following names was not considered for Tiny Tim's character in "A Christmas Carol"?
a. Little Larry
b. Puny Pete
c. Small Sam
d. Wee Willie
11. What is Santa's name in Holland?
a. Father Christmas
b. Grandfather Frost
c. St. Nicholas
d. Christkind
12. In what country was the first Christmas card created?
a. France
b. Germany
c. Spain
d. England
13. In what country was the poinsettia first grown and known as "Flower of the Holy Night"?
a. Canada
b. Mexico
c. Greece
d. Egypt
14. In what country did the real St. Nicholas live?
a. Denmark
b. The Netherlands
c. Bulgaria
d. Turkey
15. In what ocean can you find Christmas Island?
a. Indian Ocean
b. Arctic Ocean
c. Atlantic Ocean
d. Pacific Ocean
16. Which US state was the first to recognize Christmas as an offical holiday?
a. New York
b. Alabama
c. Virginia
d. Pennsylvania
17. In "It's a Wonderful Life," what is the angel's first name?
a. Clarence
b. Samuel
c. William
d. Stanley
18. What are hot cockles?
a. A Christmas beverage
b. A Christmas pastry
c. A christmas game
d. A Christmas decoration
19. If you were to receive all of the gifts in the song "The 12 Days of Christmas," how many gifts would you receive?
a. 144
b. 284
c. 364
d. 424
20. In what European country is "The Nutcracker" set?
a. Germany
b. Russia
c. Poland
d. Denmark
---
Christmas Trivia Answers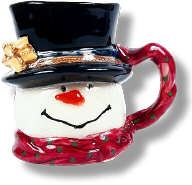 01. b. 1/2 oz of brandy / 02. c. 1962 / 03. a. 0 / 04. c. Vixen and Blixen / 05. a. Italy / 06. c. $20 / 07. b. Clement Moore / 08. c. Feathers / 09. a. Guitar / 10. d. Wee Willie / 11. c. St. Nicholas / 12. d. England / 13. b. Mexico / 14. d. Turkey / 15. a. Indian Ocean / 16. b. Alabama / 17. a. Clarence / 18. c. A christmas game / 19. c. 364 / 20. a. Germany

More Christmas Party Games

From Christmas Trivia to More Trivia


---
Would you like a printable version of this Christmas trivia?
Fill in the form below and you recieve immediate access to a printable copy of this Christmas trivia.

Please remember this game is copyrighted and for personal use only. DO NOT post it online or on forums, blogs, etc. Thank You!
To view this printable Christmas trivia, you will need Adobe Reader installed on your computer (the latest version is recommended). You can get your free Adobe Reader here (a new window will open so you can download without leaving this page).
More Christmas Trivia Games
Join in on Party Chats at Diva Girl Parties and Stuff Facebook.