Dance Party
by Serena
(Chippewa Falls)
This party is for my stressed out aunt. She works really hard. We are all girls and me and my cousin are 12 years old. My aunt is 36 years old. It is just us three. Will you please give me some non-alcohol drink recipes, ideas for decorations and how to make them, games, microwave food recipes, ideas for a present I can make and a party theme?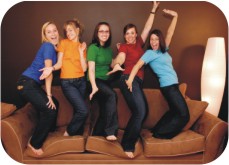 Dance Party Response:
Hi Serena!
In your question you asked for a party theme, but in the title you suggested a Dance Party. Did you want a different theme or did you want me to give you a type of dance party?
If you are going with the dance party idea and need ways to decorate cheaply, I would hang old cds from the ceiling. I would make the strings different lengths so they all hang at different levels. You could also hang strands of curl ribbon between the cds to add color. If you have old records, use those instead and make it a 50's dance party. If you have Christmas ornaments that look like disco balls, you could hang those instead and then, add some colored balls between them.
Use sheet music to make placemats and napkin rings. It will make the snack/dinner table look pretty.
For a present you could make your aunt a cd of her favorite songs
(I don't know if you know how to do that)
. Otherwise, you could make a scrapbook of photos and stories of special times you've shared with your aunt. I'm sure she would cherish it.
There are several links to sites with non-alcoholic drink recipes on my
Mardis Gras party page.
Look under the
FOOD
title. There are 4 mocktail
(non-alcoholic)
drink recipe sites listed.
I'll have to look up some microwave recipes. I don't use the microwave much. Maybe some of my visitors will share their favorite easy microwave snacks to help out.
For games you could try a competition to see who can dance the most like different famous singers and dancers. Find out who can do the most different types of dances. How about a dance trivia about famous dancers or different styles of dance?
If you want to have a few laughs sit down and try one of my
mad libs
together.
If you have any questions or comments, please add them in the comment box below.
Wendy