Just My Birthday
by Kelsey
(NYC)
I need a great game for 12 year old girls to play. It needs to be better than truth or dare and not childish. I need help fast.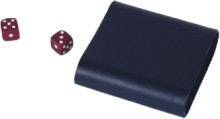 Response:
Hi Kelsey!
The tween game that I get the most emails about is the
Who, Where, Why Game
. A lot of teens and tweens love playing it. It includes free printable cards.
There are a few dice games that also go over well. You can find them on my
dice games page
.
If you are looking for something different, please give me more information by using the comment box below.
Happy Birthday!
Wendy