Movie Night at Home
What should I do when everybody comes over while we are watching the movie?
Movie Night at Home Response:
I suppose you want to know what
else
you can do. I'm sure you want to watch the movie too.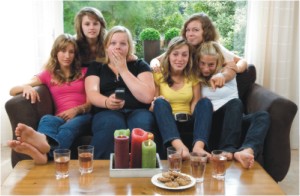 You can serve snacks and drinks during commercials if the movie is playing on tv or make an intermission every so often by pausing the movie if you rented it.
For extra activities you could try a movie trivia or play movie charades, but if it's just a cozy movie night I would kick back, relax, watch the movie and then chat about it afterwards.
If your question was meant to ask about other activities you can do on a movie night or about what to serve for snacks, etc., please clarify that in the comment box below and I will give you more ideas.
Wendy