Hi Girls!



In a less then 2 weeks the U.S. will host one of the most historical Presidential Inaugurations of our time. Have you starting planning your Inauguration Party yet? If not, it's not too late.

You'll find several easy, low-cost ideas for hosting your party on our Presidential Inauguration page, including a couple of free printable games.


---

Happy Belated New Year!

I hope your New Year's celebration was memorable and fun.

I attended a dinner/dance with my husband and his family to ring in 2009. The decor was beautiful and the food was delish... but the DJ... well... let's just say, next year I think I'll plan a little something different between 8 and midnight.

So how did you celebrate? I'd love to know. If you planned a successful New Year's Eve party this year and would be willing to share about it, please do so on our theme party submission page. Many thanks in advance.


---
First Girls' Night of 2009
On January 2nd I got together with 6 of my closest friends to chow down on delicious after holiday snacks and treats and to bond by playing What's a Dame to Do?!

We laughed a lot, sipped yummy ice-cold margaritas, and played till 2:00 am in the morning! Good thing January 3rd was a Saturday.

If you have a close group of friends you should seriously think about getting a game of your own. If you're strapped for cash due to the current economic climate, consider pooling funds with your friends and buying the game together. 2 of my friends have already borrowed the game and I purchased another one to give one of them for Christmas so we'd always have one available.

Next month we'll be breaking in a brand new girls' night game. I won't tell you what it is till then, but from everything I've read about it, I'm sure it will be a blast.


---


Better Homes and Gardens
The March issue of Better Homes and Gardens will include a few Diva Girl Parties ideas in it's pages. Be sure to check it out. It hits news stands in mid-February. I'll share more details in my next issue of Girl Stuff.


---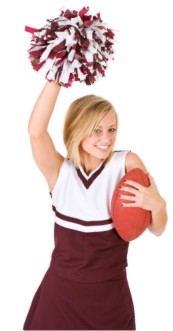 Do You Have Super Bowl Fever?

Super Bowl Party planning is in full swing and this year I've added two printable Super Bowl trivia games.

For those of you who haven't started planning yet, you might be interested to know that Super Bowl party supplies, including football field tablecloths (VERY COOL) are 25% off in our Diva Girl Party Shop till January 31, 2009.

As a matter of fact, you'll find that all party supplies for any theme, including Valentines, are available at the same fab discount price.

HAPPY NEW YEAR!!!


---

Fun Activity

Be adventurous and start 2009 out by planning a girls night that combines fun and fitness in a very unique way.

HOW you ask? Host a pole dance party in your home or at a local studio.

Before you groan, you should know that pole dancing lessons are a fairly new girls night activity, growing immensely in popularity, especially after being featured on shows like Oprah.

A pole dance party has nothing to do with stripping and everything to do with fitness and FUN! Be the FIRST of your friends to host this very unique activity. Your friends will thank you many times after.


---

Reminder:

If you have a favorite chick flick, please take a moment to share it on our favorite chick flick page, so other women can benefit from your recommendation.

Chick flick movie nights are especially popular during the long cold winter months, and having a list of recommended movies makes it so much easier to make movie night video choices.

Please note that in order to include your favorite chick flick, your review must be 50 words or more. Thank you on behalf of all women for contributing your favorites.


---

What's New at Diva Girl Parties and Stuff?

There are several new games and activities available at Diva Girl Parties and Stuff and there will be some BRAND NEW Valentine party games added very soon. To be the first to try them, bookmark my Party Blog, and you'll be the first to know when anything is NEW.


---

Have a great idea you'd like to share? Need a game or invitation for a specific party? Have any questions, comments or requests? Please visit our Contact Us page and submit them there. Your ideas and requests are always welcomed and appreciated.

Stop by and visit us soon and enjoy your free Beauty Tips E-book!

Wendy


---