Contact Us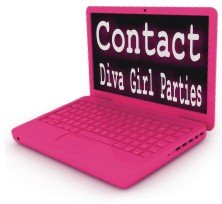 Do you have a comment or a question... a suggestion or a compliment... an idea or a request?

Are you looking for information related to girl parties that you were unable to find on this site?

Fill in the form below and click on submit.

We enjoy hearing from you and appreciate you taking the time to contact us!




Your e-mail will never be shared with anyone


Join in on Party Chats at Diva Girl Parties and Stuff Facebook.


Aug 09, 18 02:32 PM

Tell your guests to listen closely as you read the following right left bridal shower game story. Have them pass the gifts to their left or right whenever they hear those words read. Free printable ve…

May 11, 18 03:38 PM

Mothers Day ideas for celebrating the love, time and sacrifices moms invest in their children.

May 11, 18 01:57 PM

Mothers Day games and activities, including trivia, scavenger hunts, cupcake rose bouquets, charades, mad libs, and more.