Contact Us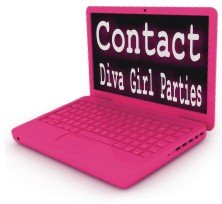 Do you have a comment or a question... a suggestion or a compliment... an idea or a request?

Are you looking for information related to girl parties that you were unable to find on this site?

Fill in the form below and click on submit.

We enjoy hearing from you and appreciate you taking the time to contact us!




Your e-mail will never be shared with anyone


Join in on Party Chats at Diva Girl Parties and Stuff Facebook.


Dec 10, 18 05:29 PM

12 days of Christmas legend game based on the story of Christians using the song lyrics as a secret code to learn and share their faith while avoiding persecution. Can you match each gift with its sym…

Nov 16, 18 03:32 PM

Test your punniness with this Christmas riddles trivia game. Includes a variety of questions related to the holiday. Printable available for download in 2 versions, one with an answer box and the othe…

Oct 16, 18 01:35 PM

Vintage Christmas parlour games to add fun, cozy, memorable moments to your yuletide family gatherings and social events.