Contact Us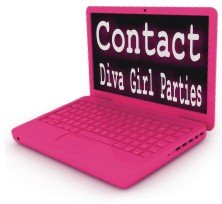 Do you have a comment or a question... a suggestion or a compliment... an idea or a request?

Are you looking for information related to girl parties that you were unable to find on this site?

Fill in the form below and click on submit.

We enjoy hearing from you and appreciate you taking the time to contact us!




Your e-mail will never be shared with anyone


Join in on Party Chats at Diva Girl Parties and Stuff Facebook.


Jan 22, 18 12:03 PM

A challenging list of multiple choice super bowl trivia questions to add to your trivia, football, or Super Bowl parties. Use them as an icebreaker or play a full out competition.

Jan 19, 18 11:24 AM

Take a trip back in history with this Valentine trivia. Use it at a Valentine party to quiz your guests about cupid, love, kissing and a variety of other things associated with February 14th.

Jan 15, 18 04:30 PM

Challenge your Super Bowl party guests to a Super Bowl trivia with this printable multiple choice quiz. Last updated on Jan 15 2018.