Girl Stuff Party Blog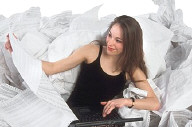 This Girl Stuff Party Blog will keep you up-to-date on Diva Girl Parties' newest party ideas, games, scavenger hunts, girls night activities, supplies, resources, and other fun stuff to share with your friends.
Answers to the latest party questions girls just like you are asking.
Have Fun and Enjoy Being a Girl!
Oscar Party Ideas | Celebrate the Academy Awards in Style
Host an Oscar party and celebrate the winners with these dramatic Oscar party ideas and games. Make your guests the stars of your party. Serve them in style and present them with some unique awards.
Continue reading "Oscar Party Ideas | Celebrate the Academy Awards in Style"
Join in on Party Chats at Diva Girl Parties and Stuff Facebook.


Nov 20, 17 01:06 PM

Let it snow on your party with some snow trivia based on fun facts about the white fluffy stuff.

Nov 18, 17 06:54 PM

Free printable nativity right left Christmas game. A fun and meaningful Christmas party icebreaker for a gift exchange or to choose a party prize winner.

Nov 15, 17 02:30 PM

You'll need a thesaurus of word knowledge to win this Christmas carol game. Popular Christmas carol titles have been altered. Decipher & guess the original Christmas songs from their fun new titles.