Girls Night Out Activities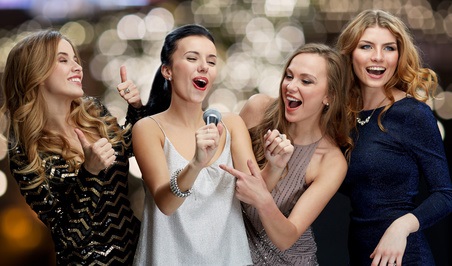 Are you looking for some fun activities and unique ideas for a girls night out? Then, you've come to the right place.
Some ideas will challenge you. Some will make you laugh. Some will make you feel like a kid again. Each one will create an amazing memory that will last a lifetime and increase the bond you already share with your friends.
Do you have a favorite place you like to go with your friends for a girls' night. Please share them with us. We'd love to create a global collection of fun locations to chill out with the girls.
 
1. Sip and Paint
PaintingwithaTwist.com calls this activity "Fun art, not fine art." Grab a few friends and head out to one of the many studios that can be found in most towns and cities. The premise is that an artist walks you step by step through creating your own original painting while you sip wine, cocktails, or your beverage of choice. 
If you don't have a studio in your area you might want to call on one of your artistic friends to join you in hosting your own paint party at home.


2. Escape Rooms
I personally LOVE escape rooms. It's one of my favorite girls night out activities.  
If you've never been, be prepared to exercise all of your sleuthing skills. You'll be surprised how fast time flies. Rooms typically have a theme and a plot. All you have to do is solve a series of puzzles, riddles, etc. that lead to escaping from the room(s).
Many clues and hints are in plain sight, but require strong attention to detail and thinking outside of the box. Others are hidden and involve deciphering numbers to open a lock.
It's amazing to watch how each player's skills complement the others and help to make an escape in the allotted time. 
Of course, the odds of escaping aren't particularly high. You're likely not going to escape every escape room you go to, but you'll definitely have fun trying.
I recommend that you tell the game hosters not to tell you the answers if you don't make it at least 3/4 of way to the goal, so that you can try again sometime. 
Side Note: Though not the same as the actual on site escape room experience, there is also the option of an at home escape room game.
Many escape room enthusiasts have given "Escape Room: The Game" a thumbs up, so if you don't have an escape room in your area, this option is worth a try.



3. Karaoke Girls Night Out
Take to the stage at a local karaoke establishment and sing out loud with you besties. It's your chance to be "starlets" or just enjoy the other amateur entertainment with a meal or your favorite beverage.


4. Pole Dancing Lessons

Find a studio or hire a professional to come your home. Either way, you'll have the time of your life mixing fitness with fun.
Even if you're not very agile or flexible, you can enjoy some laugh out loud moments attempting the moves.
You might even want to go all out and plan a pole dance party. 


5. Crazy Bowl
Crazy bowl is bowling with a twist, a twist that turns traditional into hysterical. For instructions and ideas on hosting this unique girls night out activity click here. 


---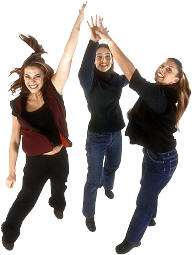 International Girls Night Out
Pick a nationality.
Example: French ...
Dress french. Learn some french. Go to a french restaurant. Buy or borrow a french poodle
(real or stuffed).
Get a french manicure. Go to a movie with french subtitles. Do everything french.
Girls' Night Out French Lesson
Don't want to go French? How about Greek, Italian, Dutch, East Indian, Chinese?
Note: 'TravLang-Foreign Languages for Travellers' has an awesome lineup of languages you can learn, including soundbites. There is a fair amount of advertisement, etc. on their site, but well worth it if you want to learn some words in different languages. They have 80 languages to choose from.
Girls' Night Out Language Tutor


---
Taste Test Safari
Get together with a group of friends and have each person select an exotic
(or not so exotic)
food they have never tried before. Create a list. Load into one or more vehicles and start your Taste Test Safari. Go to different locations to sample each food.
Note: Some foods may be harder to locate then others. Use the yellow pages if you have to. Stop and ask for recommendations. Try to find every food on your list, even if you have to be very creative!
---
A Trip Down Memory Lane
Ahead of time, have a group of friends each select one location or more that had special significance in their life.
(eg. where they went to kindergarten, where they were proposed to, where they got their first kiss, etc.).
Map out a travel itinerary and invite them out one night to begin a special trip down memory lane.
Note: You will probably have to set a distance limit, depending on how much time you have and/or how adventurous you are. It will definitely be an incredible bonding experience. There's nothing like reliving special moments with your friends.
---
Alias Girls Night Out
Ask each friend to take on a new name and personality. Have them dress up and go out for the night as these characters. Even if you come across someone you know that evening you must only refer to yourselves as these new people. Resist the urge to explain. You should take on these new characters completely. The more you do, the more fun it will be.
Note: If you can afford it get a wig. It will enhance your alias persona even more!
---
Diva Drive-In Gala Night Out
Ask your friends to dress up in their best night-on-the-town outfits. Rent a limousine. Make or order in luxury foods and beverages to take along. Pick up each one of your girl friends at their individual homes and head to the drive-in for a gala night out under the stars.
Note: Too expensive? Have everyone chip in an equal amount for the cost of the evening and it will become quite affordable.
---

Girls' Night Out Scavenger Hunts
A scavenger hunt can be the best idea for getting out and about with the girls. Plan an Around Town Scavenger Hunt or... for the more daring among you... a Girls Road Trip Scavenger Hunt, a Girls' Night Out Scavenger Hunt, or a Pub Crawl Scavenger Hunt.


---
Subscribe to our Girl Stuff e-zine and get a free Beauty Tips e-book.
---
Jul 25, 23 02:35 PM

Fun and challenging baby animal name game. What baby animal names do these 15 image clues rhyme with? Challenge yourself and your party guests. Free printable game and answers.

Jun 27, 23 02:30 PM

Challenge friends and family with this July 4th songs trivia quiz based on patriotic lyrics. From traditional to modern, there's a song for every generation.

Apr 26, 23 04:28 PM

Guess the Princess from an image of something they are associated with like a chameleon for Rapunzel or a pea for Princess Daria. Printable game with answers.