Girl Stuff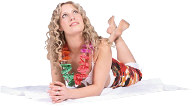 Girl Stuff is a monthly e-zine dedicated to supplying you with fun ideas, valuable information, beauty tips, new and exciting products, and party games and activities to share with friends.

Subscribe to Girl Stuff and be the first to know what's up at Diva Girl Parties and Stuff! We'll keep you up-to-date on new party games and ideas, free printables, and other stuff for girls.

Bonus: Subscribe today and get your free Beauty Tips e-book containing beauty tips, weight loss tips, smoothie recipes, homemade facial recipes and more.


Have Fun and Enjoy Being a Girl!
Mar 06, 19 02:06 PM

Host your best St Patricks Day party ever with these cool party games and activities.Challenge friends to a round of green trivia, write funny limericks, or play a right left leprechaun game.

Feb 14, 19 01:44 PM

Match the fun fact to the candy in this Valentine fun candy trivia. How did 3 Musketeers get their name? What candy bar really satisfies? Answer key included.

Feb 14, 19 01:43 PM

Add this presidential trivia to an inauguration party, 4th of July event, trivia party, or pub night. The multiple choice questions also make for a fun quiz for teachers to use in the classroom.