Girls Night In Activities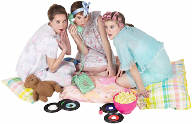 Are you in the mood for a fun and/or relaxing girls night in? Can't think of anything to do? Don't worry about it. We've done the thinking for you.
We've got lots of ideas for a night at home with the girls. Check them out. There's sure to be one to suit whatever mood you're in.
For instance, if you're a serious Girls Night In host, you absolutely must check out this new game I came across. It is the best fun ever and it was made especially for women by 2 sisters looking for the ultimate girls night game.
That game is... What's a Dame to Do?! It's one of those games you'll want to play again and again.


---
Chick Flicks
Thank you for telling us about your favorite girls night chick flicks.

Sharing your favorites will help us all in picking out movies for our girls night in events.


---
Chocolate Fondue Party
Craving chocolate? Missing your friends?
Solution:
Plan a deliciously relaxing
Chocolate Fondue Party.
---
Girls Night Ring A Bell Icebreaker
A fun icebreaker for a girls night event and a great way to learn more about your friends. Icebreaker Instructions and List

Pink Pajama Party Ring a Bell Icebreaker


---
Death By Chocolate Murder Mystery Party
Madeline Corman is hosting her daughters' bachelorette party at the very exclusive Lady Godiva's Day Spa. Lady Godiva's spa is a chocolate lovers dream come true. A place where chocolate is not just an edible treat. Guests will experience body treatments made from the finest chocolates, while indulging in the most delicious and exotic chocolate treats.
Death By Chocolate is a pampering murder mystery game for 8-16 women with an optional 5 male characters. 8-21 guests total.


---
Lingerie Party Games
Spice up your creativity and share a few laughs with your friends by playing one of these girls night in
Lingerie Party Games.
---
Girls Night Party Favors
Please Note that if products are temporarily sold out, you will see a blank box below that will link to an alternate product.
---
Beauty Product Test Party
Do you and your friends keep up to date on what's new and hot in beauty products? Then, why not hold a Beauty Product Test Party.
Have each of your guests bring a new beauty product that everyone's dying to try. Take turns testing the products together. You'll all get to find out what the truly great products are and what is just hype. Think of the money you'll save.
You could even send feedback on the products to the manufacturers via e-mail or snail mail. Who knows maybe they'll send you other products to test.

Free Skin Care Products and a Free Downloadable Gift Certificate


---
Learn to
Dance Party
Rent or purchase a video on how to belly dance, country line dance, dance hip hop, or groove to any other dance style you've always wanted to learn. Invite your friends over and let the fun begin. Practice enough and you may be able strut your stuff in the outside world on your next girls' night outing.
(It's always less intimidating to make a fool of yourself among friends first.)
---
Book Party
Invite your friends over and have them each bring a book that they have recently read and really enjoyed. Have them share a little about their book
(not too much - just enough to entice someone else to want to read it).
Then have a book exchange.
Don't know what to read? Check these out.
Amazon Best Selling Paperback Fiction
Note: Keeping a book journal is an awesome idea. Also, if you plan on having several book parties, attach a Book Review Form inside each book and have each person record their name and thoughts about the book. I am currently working on creating a Book Journal and Book Review Form. If you're interested be sure to check back here soon.
---
Yearbook Party
Invite your friends over for a night of reminiscing. Have them bring their yearbooks and/or pictures from their highschool years. Make it a time to get to know each other better and/or relive fond memories. Make soda fountain drinks and ask your friends to wear something they still own from that time period (eg. clothes, jewelry, hair accessories).
Note: Rachael Ray from the Food Network has a recipe for a yummy rootbeer float. It's very easy to make and if you don't like rootbeer, it can be substituted with your favorite soda.
Girls Night In Root Beer Float
---
Toe Party
Have each person bring an interesting toe ring and clean feet. Paint each others toenails in all kinds of exotic prints and designs. Then, have a draw to determine who will get each toe ring.
Note: There are so many fun nail design kits and accessories available these days. Stencils, jewels, stickers, colourful nail polishes, etc., etc., etc. Let your imaginations go wild.
Tip: You can accessorize your toenails with a lot of different things. These things will stay on longer if you give them a final coat of clear nail polish.
---

Girls Night In Home Spa Party - includes invitations, activities and ideas for hosting a relaxing and memorable girls night in.


---
Host a Cooking Class
Decide on a type of dish, ingredient, style of cooking, etc. that you would like to learn something about and then find someone to teach about it at your home.
There are several ways to do this. Either hire a professional or ask a friend who is particularly skilled in an area of cooking. You could also book an in home food party like "The Pampered Chef", but that includes selling cooking supplies. Choose what works best for you and then invite your friends over for a cooking class.
Note: I have a friend who makes a lot of quick and easy appetizers with cream cheese. We loved having her teach us how to make these appetizers in a live demonstration. It was even more fun tasting her creations.
Can't think of anything to make?
Check out my
Girls' Night In Baking Night Article.
---
Subscribe to our Girl Stuff e-zine and get a free Beauty Tips e-book.
---
Jul 25, 23 02:35 PM

Fun and challenging baby animal name game. What baby animal names do these 15 image clues rhyme with? Challenge yourself and your party guests. Free printable game and answers.

Jun 27, 23 02:30 PM

Challenge friends and family with this July 4th songs trivia quiz based on patriotic lyrics. From traditional to modern, there's a song for every generation.

Apr 26, 23 04:28 PM

Guess the Princess from an image of something they are associated with like a chameleon for Rapunzel or a pea for Princess Daria. Printable game with answers.