Diva Parties for Junior Divas
Party Ideas Fit for a Princess
Junior Diva Parties are for all junior divas who love celebrating their fun-loving, femininity and creativity.
So, if you're planning a special occasion or a get-together with best friends, there is sure to be a fun party idea here for you. 

If you still need more ideas there are dozens of party ideas available on our party helpline page, including slumber party ideas and games, and an assortment of theme party ideas.
Nothing beats the the crazy fun of a dozen young ladies converging in one location for some all out diva party fun!


Dress-Up Party
Young girls love pretend and can entertain themselves for hours by dressing-up, putting on makeup and doing each other's hair.
For great dressup diva parties, visit a second-hand clothing store and pick up a variety of fun dress-up clothes, costume jewelery, hats, gloves, shoes, glasses, and whatever other interesting gems you can find.
Also, be sure to have some basic makeup and hair accessories on hand.
Then send out the invitations for your dress-up party.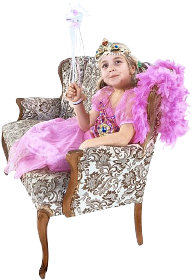 Note: Set up a large mirror so the girls can look at their creations.
Whatever you do... Don't forget to take a lot of pictures.
Later, you can use the pictures to make cards to send the girls as a thank you for attending the party. What a great keepsake. 


Scavenger Hunt Party Ideas
Jigsaw Puzzle Scavenger Hunt
A jigsaw puzzle scavenger hunt combines the fun of hunting with the challenge of solving. Divide your guests into teams and find out which team will be first to find all of their pieces and put their puzzle together. 
Penny Scavenger Hunt Shopping Game
Girls love shopping, so why not indulge that love with a game. Hide pennies (or an assortment of coins) all over a designated area (use play money, if you don't want to use real cash). Pick up an assortment of small dollar store items (eg. packages of fun erasers, pencils, hair accessories, bracelets, party novelties, etc.) and penny candy. Create a little store where the girls can shop after they find the coins you've hidden. Imagine how much fun they'll have. 


Fun Scavenger Hunt Game for Little Divas
Custom Scavenger Hunts for Indoors and Outdoors
1000s of clues to choose from for every age and location around the home, both indoors and outdoors and there is no limit to the number of custom hunts you can make. Just choose and print. There's even invitations.
Kids absolutely LOVE this. And, you don't even need a special occasion to enjoy playing. Just hide snacks and other everyday items or if they like hide and seek, hide yourself.
You have to try it to know just how fun and easy it is, but from my own experience... Kids LOVE THIS! 


Share YOUR Girl Birthday Party Ideas
Girls love going all out to host one-of-a-kind parties to celebrate their birthdays with friends and family. Everyone wants to have the BEST party and add their own unique twist to the event.

Tell us about your favorite girl party. What made it over the top special? What were the invitations and decorations like and what games did you play? We'd love to hear about them! Even if you're still planning your BIG party and want to get feedback on your ideas, take a moment and tell us about it.
Girl Birthday Party Ideas
Click below to see theme and party ideas for girl parties...
Cookie Party
Kids love creating edibles in the kitchen, so why not plan a cookie party. Make cookie invitations and prepare your kitchen for fun and laughter.
If your not comfortable with having children use the oven, then try my friend Trihn's easy no-bake cookies. They are so fun and easy for kids to make. Trihn also includes ideas for making favors with the cookies, so everyone can take home a beautiful momento of their cookie making experience. 


Tea Party
What could be more fun than a girls' tea party? Young girls love hosting tea parties. It's so enjoyable to watch them sitting together around a delicately set table, chatting about this and that, pretending to be all grownup. Also, inviting them to dress up in pretty outfits just adds to the charm. 

An excellent site for everything you could ever want to know about planning and hosting a successful girls' tea party is child tea party game ideas. You'll love it! 


Balloon Party
Balloons create a party atmosphere by their very presence. Why not build an entire party theme around them. Decorate with lots and lots of them. Use them for every game and activity. Even send every girl home with a unique or personalized mylar balloon as a favor, alone or attached to a goodie bag.
Create fun invitations by blowing up balloons and writing your party info on them. Then deflate them and put them in envelopes to be mailed. Imagine how fun that would be for a kid to receive. (Precaution: You might want to type the info on a small piece of paper, roll it up and stick it inside the balloon, just in case the balloon pops.)
Play Balloon Games 

Feeling adventurous? try learning some balloon art. The girls will be amazed by your ability to twist balloons into every manner of creature and object. All you need is long, narrow balloons and a balloon pump or extra strong lungs. You might also need instructions and practice ... lots of practice.
Free Instructions:  Balloon Twisting for Junior Diva Parties
Pink snakes were a big hit with the girls at a recent community event where I twisted balloons. Check out this sample green snake and remember ... practice makes perfect. 
At Hits for Kids with Party Balloons you'll find lots of great decorating ideas with easy-to-follow instructions and many photographs.
Still looking for more balloon art? Check out these 
balloon art books and supplies. 

Please note: Even though balloons are a lot of fun they can also be dangerous. Please be sure to pick up all scrap balloon pieces and do not let children chew on balloons. They can be a chocking hazard and lead to suffocation. Adult supervision is strongly recommended. 


More Party Games and Themes
Craft Party - games, crafts and invitations for a fun interactive kids party. Make diva gloves, or cool puppets. Play playdough pictionary or make craft banners. Open the door to imagination and creativity. 

BAT MITZVAH Party Themes and Ideas
Tween Ring a Bell Icebreaker Game 
Fashion Design Game for Diva Parties
Diva parties absolutely must include fashion. Divide your guests into teams and give each team a stack of newspaper, scissors and tape. Give them a time limit to create an outfit with the supplies they've been given. Stage a fashion show with some fun music. (One song to try is I Enjoy Being a Girl!) The girls will have a ball strutting their stuff. I'm always amazed by the creations they come up with!
More fashion games for diva parties. 


Best Kids Costume Shop - The best kids costume shop in Canada for all holidays, school plays, theme days, presentations, dress-up diva parties and more. 
For more great party ideas, games and other cool stuff check out Kids Party Cabin! 


Party Planning Help

Tips for Surviving Kid Parties
Tip #1 - Do not invite more children than you can handle. Enlist the help of volunteers if you want to invite more kids.
Tip #2 - Don't blow your budget on decorations. Children will notice decorations, but they won't judge the success of the party by them. 
Tip #3 - Keep games safe and fun. Pick out six or more games for the party. You might not use them all, but you don't want to be caught shorthanded with an hour of party time left.
Tip #4 - Keep it simple and plan ahead so that you can enjoy the time with your party guests rather than stressing.

Tip #5 - Stick to regular food and be aware of any food allergies party guests may have. Now is not the time to try unique and unusual foods. Also, some parents don't allow children to drink soda, so you should keep some non-carbonated beverages on hand.


Jul 25, 23 02:35 PM

Fun and challenging baby animal name game. What baby animal names do these 15 image clues rhyme with? Challenge yourself and your party guests. Free printable game and answers.

Jun 27, 23 02:30 PM

Challenge friends and family with this July 4th songs trivia quiz based on patriotic lyrics. From traditional to modern, there's a song for every generation.

Apr 26, 23 04:28 PM

Guess the Princess from an image of something they are associated with like a chameleon for Rapunzel or a pea for Princess Daria. Printable game with answers.