St Patricks Day Party Ideas
Try Your Luck with SOME FUN St. Paddy's Day Games
When you're in the mood for all things green, it's time to plan a St Patricks Day party.  Choose from one of our fun interactive activities, and let the games begin.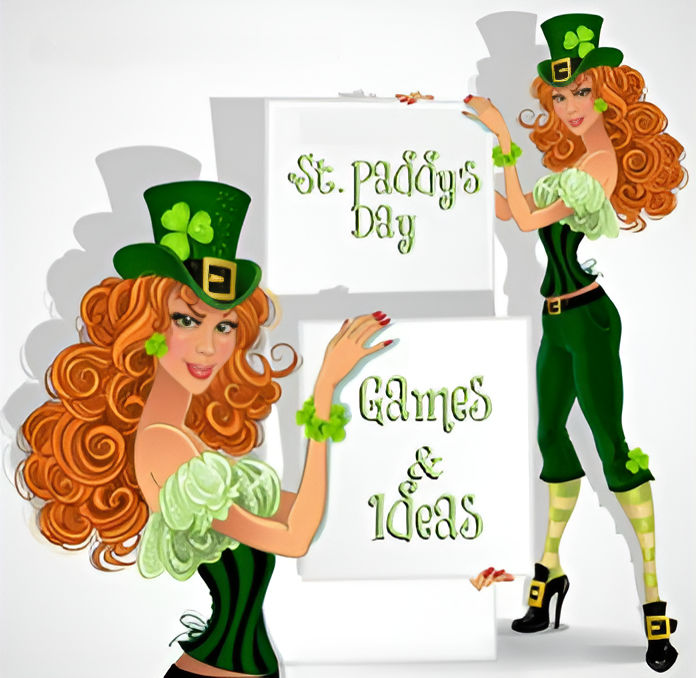 St. Patrick's Day Party Games
St Patricks Day Right Left Games
A right left game is always fun and Righty Shamrock's  Right Left Blarney Poem is the perfect fit.  
I would suggest sending around bags of chocolate coins AND a few gag gifts (wrapped in green of course) to add to the excitement of this interactive St. Patrick's Day game.


If you want to learn a little about St. Patrick while you're celebrating the day, then our Story of St Patrick Left Right Game fits the bill.
Dig out the green balloons, four leaf clovers, horseshoes and pots of gold. Strike up a rousing chorus of Irish music and speak in limericks.
It's all part of the St. Patrick's Day tradition and adds to the fun.


St Patricks Day Party Trivia

Challenge your friends to some St Patricks Day trivia.
For instance, do you know what happens when you look away from a leprechaun?
And how familiar are you with all things green? Find out with our green trivia. Use the questions we've provided or do some research on Irish customs and history. May the luckiest... or should I say smartest gal win! 


LUCK GAME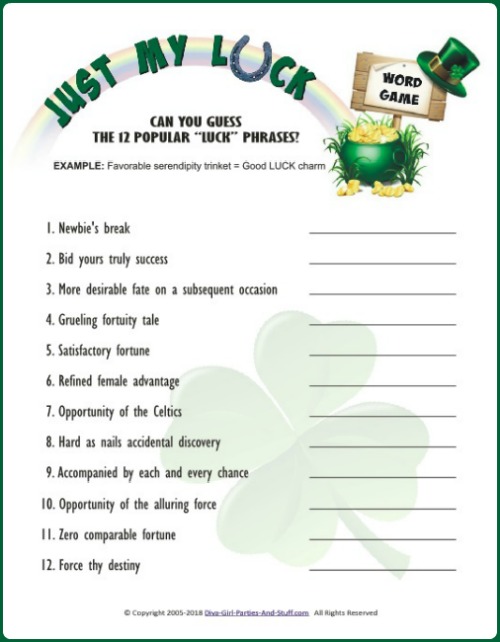 Just My Luck Word Game
GREEn TRIVIA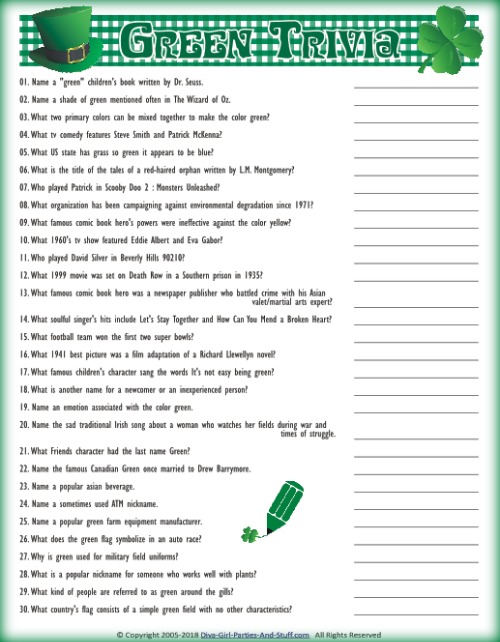 Printable Green Trivia
TRIVIA GAME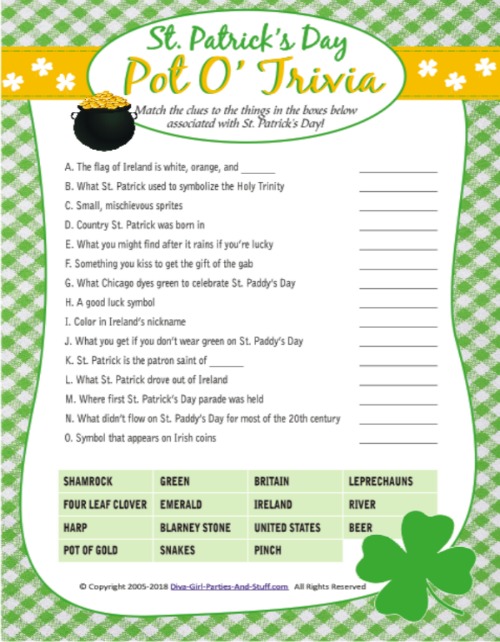 St. Patrick's Day Trivia
Musical Shamrocks

Find some fun Irish music and play this St. Patrick's Day version of musical chairs. You'll need one shamrock per guest minus one.
Draw and cut out your own or use our printable shamrock pattern. Print as many as needed on green paper and cut out, or print one and use it as a pattern to cut out the others.
Scatter the shamrocks over the floor in the playing area and start the rousing Irish dance music. When the music stops, each guest rushes to stand on a shamrock. The player who does not get to one on time is out, a shamrock is removed, and the game continues till there is only one player left... the WINNER!


Toss the Hat on the Leprechaun

It's not easy to throw a hat in the air and land it atop someone's head, especially after a round of Irish brew. Line your guests up in teams of two and see who can flip a hat onto their "leprechaun" first. 


The Luck Of The Irish Mystery Party Game

For the perfect St Patricks Day party game try hosting a mystery. You can download The Luck Of The Irish... within moments of purchasing. It has add-ons to enhance the success of your party also, including invitations.
The King of the Leprechauns Roy Gilroy has had his pot of gold stolen. Who was the devious thief? This game is very flexible and has roles for 10 to 50 guests. However, it could be used for up to 90 guests if the additional guests just dress in green. 
Pot of Gold Coin Toss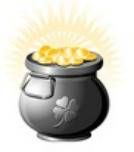 Test how skilled (or lucky) your guests are.
Set up a festive looking pot and have them try and toss coins into it from a reasonable distance.
Winners can be given lotto scratch tickets or all the coins in the pot. 


Irish Limerick Competition

When your guests are relaxed and ready for anything, have them compete in a limerick writing competition. Give them the first two lines to start or let them create the whole limerick themselves. For examples of Irish limericks visit Brownie Locks Limericks. 


Printable St Patricks Day Games
Printable St. Patrick's Day Party Pack
Printable St Patricks Day Party Games 


Jul 25, 23 02:35 PM

Fun and challenging baby animal name game. What baby animal names do these 15 image clues rhyme with? Challenge yourself and your party guests. Free printable game and answers.

Jun 27, 23 02:30 PM

Challenge friends and family with this July 4th songs trivia quiz based on patriotic lyrics. From traditional to modern, there's a song for every generation.

Apr 26, 23 04:28 PM

Guess the Princess from an image of something they are associated with like a chameleon for Rapunzel or a pea for Princess Daria. Printable game with answers.