Just My LUCK Word Game
Guess the popular LUCK phrases in this Just My LUCK Word Game and you'll be either the smartest or LUCKiest guest at the party.
Every phrase contains the word LUCK!
EXAMPLE: Favorable serendipity trinket = Good luck charm
How many of the 12 can you guess without peeking at the answers?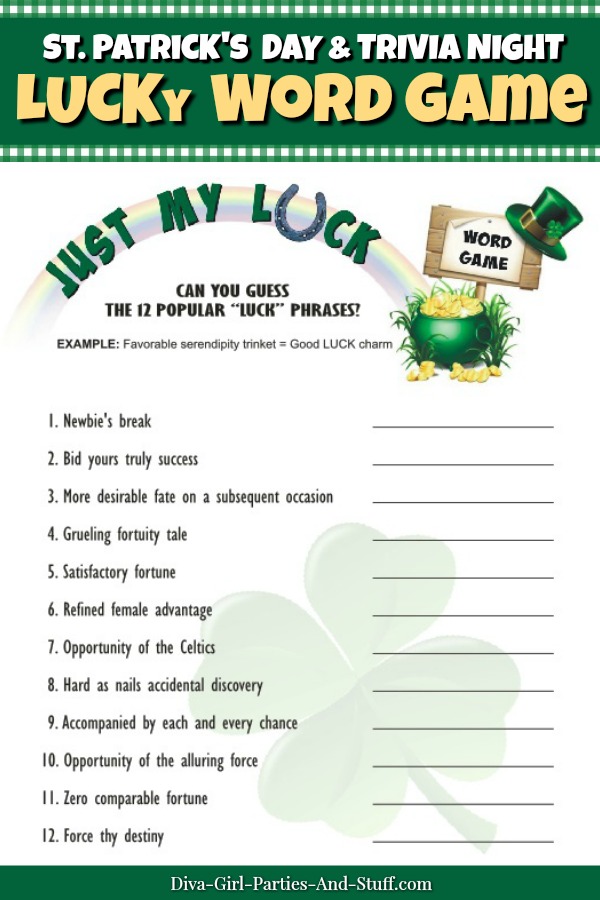 Just My Luck Word Game Clues
01. Newbie's break
0 2. Bid yours truly success
 03. More desirable fate on a subsequent occasion
0 4. Grueling fortuity tale
0 5. Satisfactory fortune
0 6. Refined female advantage
0 7. Opportunity of the Celtics
0 8. Hard as nails accidental discovery
 09. Accompanied by each and every chance
10. Opportunity of the alluring force
11. Zero comparable fortune
12. Force thy destiny

Just My Luck Word Game ANSWERS
01. Beginner's luck
02. Wish me luck
03. Better luck next time
04. Hard luck story
05. Good luck
06. Lady luck
07. Luck of the Irish
08. Tough luck
09. With any luck
10. Luck of the draw
11. No such luck
12. Push your luck


And here's a little more LUCK for trivias, charades, and Pictionary...


More Lucky Phrases
As LUCK  would have it
Press your LUCK
Down on his LUCK
LUCKy break
PotLUCK
Ride your LUCK
Stroke of LUCK
Try your LUCK
Make your own LUCK
LUCKy Song Titles
Some Guys Have All the LUCK (Rod Stewart)
LUCK Be a Lady Tonight (Frank Sinatra)
LUCKY Town (Bruce Springsteen)
Hard LUCK Woman (KISS)
Hard LUCK Stories (Neil Young)
LUCK of the Draw (Bonnie Raitt)
With a Little LUCK (Wings)
LUCKY in Love (Mick Jagger)
Sister LUCK (The Black Crowes)
That LUCKY Old Sun (Louis Armstrong)
LUCKy MOVIE Titles
Joy LUCK Club (Tamlyn Tomita/Rosalind Chao)
Good LUCK Chuck (Dane Cook/Jessica Alba)
Good Night and Good LUCK (George Clooney/Robert Downey Jr.)
LUCKY Number Slevin (Josh Harnett/Ben Kingsley)
Just My  LUCK  (Lindsay Lohan/Chris Pine)
Logan LUCKY (Channing Tatum/Adam Driver)
The LUCKY One (Zac Efron/Taylor Schilling)
Stan Lee's LUCKY Man (James Nesbitt/Amara Karan)
Happy-Go-LUCKY (Sally Hawkins/Alexis Zegerman)
The LUCKY Man (Jesse James/Mariana Paola Vicente)
Apr 26, 23 04:28 PM

Guess the Princess from an image of something they are associated with like a chameleon for Rapunzel or a pea for Princess Daria. Printable game with answers.

Feb 12, 23 04:19 PM

Add an extra challenge to game day with this Super bowl picture puzzle rebus. Guess the names of 10 players from the Kansas City Chiefs and Philadelphia Eagles.

Feb 12, 23 04:16 PM

Host a Super Bowl party with great food, games and friends. Add our Super Bowl trivia questions and icebreakers, and get everyone's game predictions pre-party.