Valentine Party Games and Ideas
Cupid Approved Valentine's Day Party Fun
Whether you need Valentine party games for a couples' or singles' valentine party, you're sure to find the perfect game for your party here.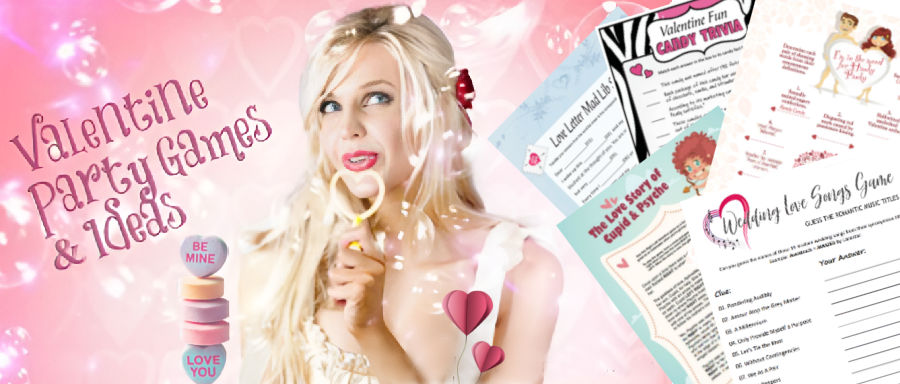 Printable Valentine Party Games by Party Fun Printables
Valentine Love Songs Trivia
Guess the love songs from their synonymous titles.

Example:  The electricity of passionate affection. 

Answer: The Power of Love
Romantic Movies Valentine Quiz
| | |
| --- | --- |
| Guess the popular romantic movies from their synonymous titles. | |
Ring a Bell Valentine Icebreaker
This fun couples' Valentine party game makes a great icebreaker for a Valentine party or marriage retreat. Ring a bell and try to find the couple that most closely matches the description of each item on the list.
Examples:

1. Which couple has the craziest nicknames for each other?

2. Which couple plans regular date nights?

3. Which couple has taken a break in their work day for a romantic rendezvous?
Award points for one prize, or small individual prizes to the winner of each scenario and have fun learning more about the couples you share life with.

Ring a Bell Valentine Icebreaker


This crazy gift passing game will have everyone scrambling as they listen for you to say right or left while you read the love story of Cupid and Psyche. The players who end with the gifts get to keep them. You'll need several gifts for this game, but it's more than worth it!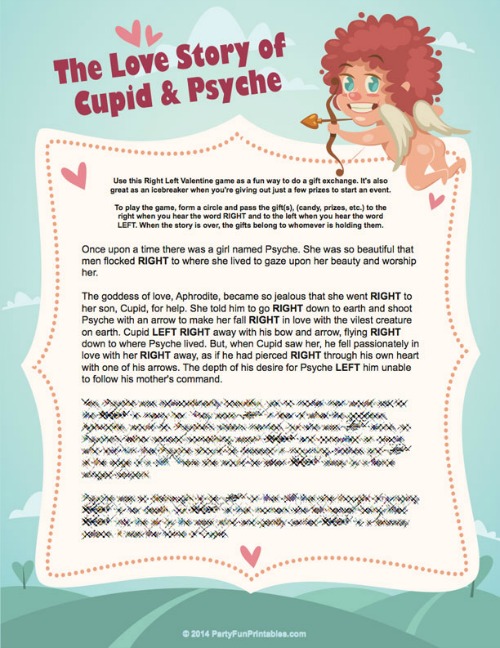 Cupid Love Story Right Left Game
You could also tweak some of these Christmas gift exchange games for your Valentine party. There are at least a dozen great ideas to choose from.

Printable Valentine Games 5 Pack

Cupid's Love Story Right Left Game
Valentine Pictionary/Charades
I'm in the Mood for Hanky Panky Word Play Game
Home is Where the Heart Is Famous TV Couples Trivia
All You Need Is Love Word Game
And for a really hilarious icebreaker be sure to include... STACKS! It will have you on the edge of your seat... or someone else's... : )  Interested?  Contact us to ask us about it.

Valentine Scavenger Hunts
Love Song Inspired Valentines Day Scavenger Hunt - Fill in the scavenger hunt list with missing lyrics and then find the items those missing lyrics represent.

Romantic Valentine Scavenger Hunt - Okay, so this game is more for a private party for two. Send your lover on a romantic treasure hunt to find YOU! We provide the clues, you provide the PRIZE! : )     
Romantic Valentine Scavenger Hunt Clues


Valentine Party Trivia Games
Love Letter Mad Lib
The object of this Valentine game is to produce a humorous story by replacing blanks in a specially written love letter. Prior to seeing the love letter, participants will need to list various random words matching noted parts of speech. They will then transfer those words over to the love letter. The result is often quite hilarious.


Valentine Feud
Valentine Feud internet survey results to use for playing a game of Valentine Family Feud.


The Great Valentine Kiss-Off
This is a great couple's game, but can be altered for any party. Be sure every couple has one tube of lipstick (a darker color is best). Instruct the couples that on your "go" one partner must apply lipstick and begin kissing their partners face as often as possible in the time allotted. Set a time limit of 30 seconds to 1 minute and let the kissing begin. The couple with the most visible lip imprint marks wins.
Not having a couples' party? Draw a face silhouette on several sheets of paper and let your guests compete on their "faux" partners.


Valentine Mystery Party Game
Plan a truly unique Valentine's Day party this year. You can download a Valentine murder mystery within moments of purchasing. It has add-ons to enhance the success of your party also, including invitations.
A Killer Reunion is a romantic murder mystery Valentine party game, perfect for a couples' party, while Death by Chocolate is a deliciously pampering singles or all-girl mystery party game with a spa theme. Everything you need to host a successful and memorable Valentine party is included these kits. Learn more about these mysteries. 


Valentine Pictionary
Print the names of popular valentine items on index cards (one item per card) and place upside down in your game area. (Slips of paper can be folded and placed in a bowl instead.)
If you're hosting a large party, you'll need a chalk board or a white board so that everyone can see. If there are 10 or less you could sit around a table and use paper.
Divide your guests into two teams. Have one team member come up and pick a card and start drawing hints for her team to guess. If after a set time her team can't guess, allow the other team to guess. Score points accordingly. Go from one team to the next till all of the valentine items have been used.
Sample items:
Roses, Valentine, Chocolates, Love Letter, Kissing ... 

Valentine Pictionary Word Lists



Love Charades Cards (or Pictionary Cards)
5 Categories of 21 cards each... Romantic Nicknames, Relationship Advice, What Lovers Do (and Share), What Women Like, and What Men Like.

105 Printable Valentine Charade or Pictionary Cards


The Newlywed Game
The newlywed game is a hugely popular among valentine party games. Use our Bridal Newlywed Game for couples or our Friendship Newlywed Game for any all girl parties.


More Printable Valentine Games
Printable Valentine Party Games Packs

22 Amazingly Fun Printable Valentine's Day Games
Valentine Pencil Puzzle Ebook

Visit our Valentine Trivia page and tell us about the most romantic Valentine gift you have ever given or received and we'll send you a free Valentine Pencil Puzzle Ebook. 

HAPPY VALENTINE'S DAY!!!
Jul 25, 23 02:35 PM

Fun and challenging baby animal name game. What baby animal names do these 15 image clues rhyme with? Challenge yourself and your party guests. Free printable game and answers.

Jun 27, 23 02:30 PM

Challenge friends and family with this July 4th songs trivia quiz based on patriotic lyrics. From traditional to modern, there's a song for every generation.

Apr 26, 23 04:28 PM

Guess the Princess from an image of something they are associated with like a chameleon for Rapunzel or a pea for Princess Daria. Printable game with answers.