Valentine Fun Candy Trivia Game
Match the candy to one of the fun facts in this Valentine fun candy trivia game. A printable version of the game with an answer sheet is available below.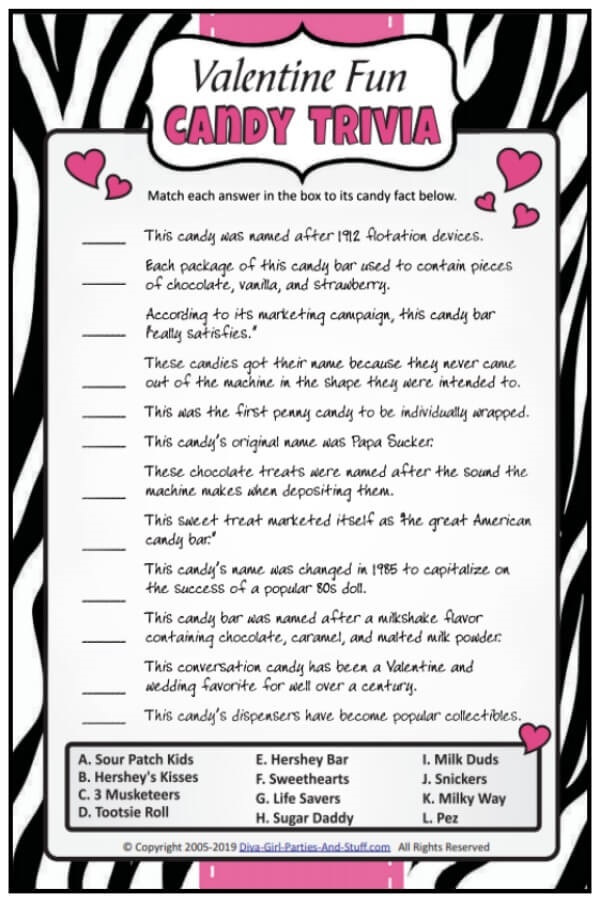 VALENTINE FUN TRIVIA Candy Names
A. Sour Patch Kids
B. Hershey's Kisses
C. 3 Musketeers
D. Tootsie Roll
E. Hershey Bar
F. Sweethearts
G. Life Savers

H. Sugar Daddy
I. Milk Duds
J. Snickers
K. Milky Way
L. Pez
Valentine Fun Candy Trivia CLUES
This candy was named after 1912 flotation devices.


Each package of this candy bar used to contain pieces of chocolate, vanilla, and strawberry.


According to its marketing campaign, this candy bar "really satisfies."


These candies got their name because they never came out of the machine in the shape they were intended to.


This was the first penny candy to be individually wrapped.


This candy's original name was Papa Sucker.


These chocolate treats were named after the sound the machine makes when depositing them.


This sweet treat marketed itself as "the great American candy bar."


This candy's name was changed in 1985 to capitalize on the success of a popular 80s doll.


This candy bar was named after a milkshake flavor containing chocolate, caramel, and malted milk powder.


This conversation candy has been a Valentine and wedding favorite for well over a century.


This candy's dispensers have become popular collectibles.


Valentine Fun CanDy Trivia Answers
1. Lifesavers (G)
2. 3 Musketeers (C)
3. Snickers (J)
4. Milk Duds (I)
5. Tootsie Roll (D)
6. Sugar Daddy (H)
7. Hershey's Kisses (B)

8. Hershey Bar (E)
9. Sour Patch Kids (A)
10. Milky Way (K)
11. Sweethearts (F)
12. Pez (L)
More Valentine Games
Nov 23, 22 03:29 PM

12 days of Christmas legend game based on lyrics used as a secret code to share faith and avoid persecution. Match each gift with its symbolic Christian meaning

Sep 23, 22 04:50 PM

Printable Would You Rather Halloween Game with fun either or icebreaker questions to get your party off to a howling start.

Sep 08, 22 12:25 AM

Printable Halloween pass the gift game poem for 10 players or more. Wrap enough treats and gag prizes to give one per guest or play the game white elephant style.