Name That Candy Bar Game
Guess the Popular Candy and Chocolate Bars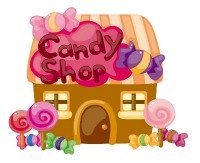 This name that candy bar game makes for a great icebreaker. Plus, coming up with prizes is super easy as you can simply use the game supplies.
Give a definition and whoever guesses it first gets the candy they guessed.
Spread the love by limiting guests to winning 2,3 or 4 times unless no one else can guess the candy.
---
This game is for your personal use and is copyrighted. THANK YOU for respecting the time that went into creating it by NOT copying and pasting it on other blogs, forums or websites. You may, however, link to it.
---
Name That Candy Bar Game Definitions and Answers
01. Witherspoon's nut-paste mugs (Reese's Peanut Butter Cups) Reese Witherspoon
02. Belonging to a controversial rap artist (M&Ms) Eminem's
03. Sweet polka partners (Dots)
04. Misfiring moo juice or moo juice bombs (Milk Duds)
05. Nickname of someone who's always dropping things (Butterfinger)
06. Best time to go shopping or when wages are disbursed (Pay Day)
07. What the silly rabbit with a lisp doesn't know is for kids (Twix)
08. Single women look for him (Mr. Goodbar)
09. Nut happiness (Almond Joy)
10. Pint-sized storehouses of large sums of cash (Junior Mints)
My favorite nostalgic candy for parties and wedding candy bars.
11. Half suppressed laughter
(Snickers)
12. 10 X 10 G's or one tenth of a million (100 Grand)
13. One million dollars (1000 Grand)
14. Indian burial grounds (Mounds)
15. Citrus craniums (Lemon Heads)
16. Popular English pub game or nine pins (Skittles)
17. Steve Urkel, Screech, and Ugly Betty (Nerds)
18. Turn Zeros (Rolos) OR paddle close to the ground (Rolo) Row low
19. Explosive Gravel (Pop Rocks)
20. Mechanical pocket candy you stick your neck out for (Pez)
Sample Candy Definitions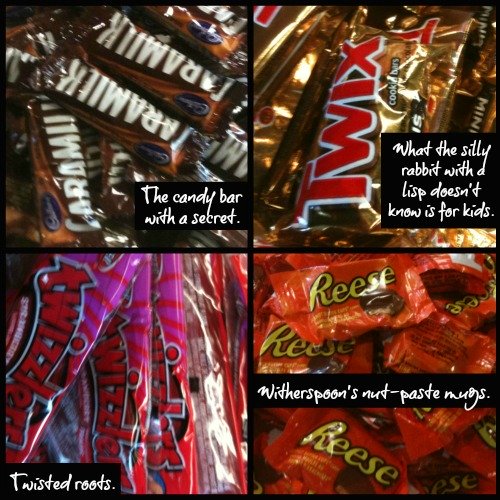 21. Twisted Roots (Twizzlers)
22. A Southerner's peanuts (Goobers)
23. Substituted for teeth in the movie Dennis the Menace (Chicklets)
24. Popular 1980's funk song by James Mtume or succulent plant with ovaries used for food (Juicy Fruit)
25. Sun explosion (Starburst)
26. Rod belonging to a famous Ledger (Heath bar) Heath Ledger
27. Colorful flotation devices (Life Savers)
28. Belonging to Tyson and Turner or belonging to Tyson & Eisenhower (Mike & Ikes) Mike Tyson & Ike Turner or Mike Tyson & President Eisenhower who was nicknamed Ike
29. At this time and a subsequent time (Now and Later)
30. Call Dad on the telephone (Ring Pop)
31. The candy with a secret (Caramilk) How do they get the caramel in the Carmilk bar?
32. Ask for this when you haven't had enough (S'more)
33. A small parasitic nail (Tic Tac)
34. Pre grade-school shock (Kinder Surprise)
35. Freckle-face brunette tomboy of Peanuts fame (Peppermint Patty)
36. Pub belonging to two female pronouns (Hershey's Bar)
37. Two personal female pronoun smooches (Hershey Kisses)
38. Ummmmm... I don't remember the name or What you call something
you can't remember the name of (Whatchamacallit)
39. Partner to Pop and Snap (Krackel) Snap, Crackle, Pop, Rice Krispies
40. Cheerful cattle farmer (Jolly Rancher)
More Candy Games
Name That Candy Bar Game by Thinking Fountain involves identifying popular candy bars by viewing an image cross section of them.
Additional candy bar definitions to add to this Name That Candy Bar Game can be found on our party games page.
Feb 24, 20 03:36 PM

This Tale of Peter Rabbit right left game is fun gift or prize giving. Read the story. Pass the prizes left or right. Great for school, parties, or Easter.

Feb 24, 20 02:07 PM

Use this Right Left Easter Game as a alternative way to exchange Easter treats and share the Bible Easter story. It's a great icebreaker for church parties and family Easter celebrations.

Feb 10, 20 05:20 PM

Fill in the blanks for this love letter mad lib and enjoy reading it back at your next valentine party, bridal shower, all girl get-together or birthday party.