Bridal Shower Candy Match Game
Bridal Shower Candy Match Game
This Bridal Shower Candy Match Game is similar to the "match game" you may have played as a child.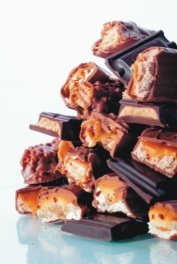 For this game you will be matching popular candy and candy bar names with wedding related definitions.
Use index cards, card stock paper or bristol board to make the cards.
Half of the cards will have the names of candy (bars) on them and half will have wedding definitions.
Use the names and definitions below to create your bridal shower candy match game cards and then shuffle them, turn them upside down, number them, and mount them on a wall or some other surface that will make it easy for all your guests to see.
Sticky tack is perfect for mounting the cards and is available at any office supply or teacher's store.
Have your guest take turns flipping two cards. If the definition matches the candy, they get the applicable candy bar or whatever other prize you decide to use.
If the definition and candy does not match, the cards are flipped back over and the next person gets to try.


Bridal Shower Candy Match Game Definitions
Please Note: There are more bridal shower candy match game definitions then you probably need below, but since candy bar availability differs from location to location we wanted to give you a wide range to choose from. Pick the ones below that best suit your shower and use them.

Butterfingers = First Date Interactions
Hugs = Warm Embraces
Pay Day = Wedding Ring Purchase Date
5th Avenue = The Wedding Dress Shop
Twix = Bachelor Party Pranks
Mounds = Gifts
Hot Tamales = The Bride
Mr. Big = The Groom
Big Hunk = The Groom
Sweet Tarts = The Bride & Groom
Nerds = The In-Laws
Lifesavers = The Parents
Sugar Daddy = Father of the Bride
Runts = The Flower Girl & the Ringbearer
Treasures = Wedding Photos
100 Grand = The Reception
Kisses = What Reception Guests Clink Glasses For
Fast Break = Leaving the Reception
Skor = The Honeymoon Night
O'Henry = Bride's Honeymoon Cry
Starburst = Groom's Honeymoon Reverie
Baby Ruth = 9 Months After the Honeymoon
Zero = Post-Wedding Bank Accounts
Park Avenue = Couple's Dream Home Location
Rocky Road = The First Year 


Bridal Shower Candy Game Prizes and Favors
May 02, 22 10:18 AM

Need some last minute Mother's Day games and ideas? We've got some here...

Mar 16, 22 01:08 PM

Host your best St. Patrick's Day party ever with these cool party games and activities. Challenge friends to a round of green trivia, write funny limericks, or play a right left leprechaun game.

Feb 12, 22 05:36 PM

A challenging list of multiple choice super bowl trivia questions to add to your trivia, football, or Super Bowl parties. Use them as an icebreaker or play a full out competition.
Bridal Shower Candy Match Game