Easter Party Games and Activities
Celebrations filled with fun Easter party games are a great way to welcome the Spring season. Whether you are hosting a children's event, a baby shower, a scavenger hunt, or a ladies afternoon tea, Easter provides the perfect reason to celebrate. 
What better way to make your event extra special than by including some exciting games and activities that will have your guests donning their Easter bonnets and leading the parade to your party.
What's not to love about Spring? It's a time of sunshine and flowers and cheery pastel colors. It brings to mind images of fuzzy baby chicks, cuddly bunnies, and blue robin's eggs. And, right in the midst of all this new life and awakening is a holiday that epitomizes the season – Easter!


Easter Scavenger Hunts
It doesn't matter how old you are, you never really outgrow the excitement of an egg hunt, right? Scavenger hunts are popular party games because there is something very satisfying about completing a quest or finding a hidden treasure. So, whether your party is geared for young children, teens, or adults, you can't go wrong by including one of these fun hunts on your activity list.

Bible Easter Scavenger Hunt. Send your guests on a search for Easter related items such as a cross, egg, or daffodil. You can make it even more challenging by asking them to find someone who has a baby chick or owns a bunny.

Bible Easter Scavenger Hunt


Resurrection Eggs Scavenger Hunt. Fill plastic eggs with Bible clues related to the Easter story. Guests will race to solve the clues and find the corresponding symbols such as nails, a palm leaf, or dice.

Resurrection Eggs Scavenger Hunt


Easter Bible Verse Scavenger Hunt. This is a perfect game for children, but adults will love it, too! The object it to have each person or team find all their color-coded pieces and correctly assemble their puzzles to reveal the seven sayings of the cross.

Sayings of the Cross Easter Scavenger Hunt


Glow-in-the-Dark Egg Hunt. You can host this hunt outside in the evening, but a darkened room will work also. Put glow sticks in plastic eggs or paint them with glow-in-the-dark paints, and then hide them around your location. If you like the idea of a nighttime hunt. but don't have access to glow-in-the-dark materials, simply give each guest a flashlight and have them compete to find the most hidden treasures.

Glow in the Dark Easter Eggs


EasTER Paper Fun
Easter Rabbit Paper Doll. Your little ones will love this adorable paper doll. It was created by illustrator, Jennifer A. Bell and it's FREE to download.  CLICK HERE and scroll down to the 4th printable on the page to get your own.   There's loads of other cute Easter printables there too. ENJOY!  Thanks Jennifer!
Easter Family Feud Game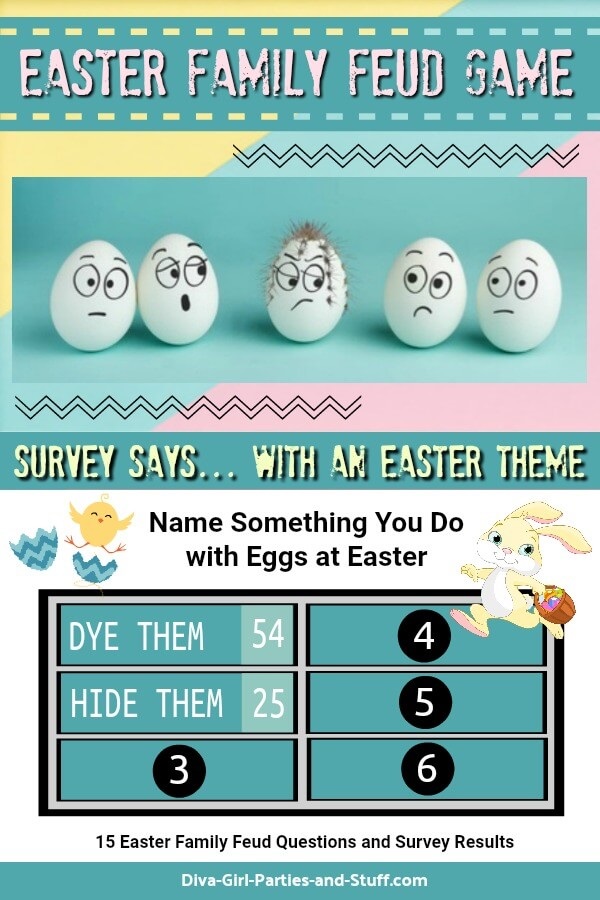 Click here for survey results to play the game.


PRINTABLE Easter Party Games
Easter Bible Trivia. Test each person's knowledge of the Easter story with a classic "Who Am I?" game that draws attention to some important Bible characters.

Who Am I? Bible Trivia Game


Printable Easter Games: Easter themed Bingo, Word Scramble, and Bible Word Quizzes are great ice breakers that will get everyone involved.  (Printable Easter games)



Thanks for the activities which were totally enjoyed by the mums n bubs group with visitors. The sunday school teacher saw us having fun and decided she will also use them Easter Sunday for the kids time. Many thanks for doing all the work and making it available for us to enjoy.  ~ Patricia (New Zealand)


Fun Easter Activities
Easter Bowling. This is a great activity for any age and can be played both inside or outdoors. Children, teens, or even ladies might enjoy decorating the bowling pins to look like bunnies or flowers. Not only will you be able to play a fun game of bowling, but the decorated pin will also make a perfect memento for each person to take home. For a less artistic crowd, you can buy Easter bowling games at a reasonable cost.

Easter Bowling Pin Ideas

Easter Parade. Remember the classic Easter Parade song? "In your Easter bonnet, with all the frills upon it. You'll be the grandest lady in the Easter parade." It's reminiscent of days when ladies strolled the streets in fancy hats and elegant gowns. Why not recreate this era by having guest decorate their own Easter bonnet. Buy some straw hats, silk flowers, ribbons and little plastic birds and challenge each lady to build the most beautiful, extravagant, or outrageous bonnet. You can even have a parade to show off all the original creations. Will there be men at your party also? No problem. The next lines of the song are: "I'll be all in clover, and when they look you over I'll be the proudest fellow in the Easter Parade." Gentlemen can join the parade and escort their ladies to dinner, or even act as judges.
Easter Nail Painting. Nothing says "I love Easter" more than nails decorated with polka dots, flowers, or smiling rabbits. Hire a nail artist or have the girls give each other Easter manicures. You can even buy nail decals that will help the not-so-artistic create professional looking nails.


Easter Nail Decals
Jul 25, 23 02:35 PM

Fun and challenging baby animal name game. What baby animal names do these 15 image clues rhyme with? Challenge yourself and your party guests. Free printable game and answers.

Jun 27, 23 02:30 PM

Challenge friends and family with this July 4th songs trivia quiz based on patriotic lyrics. From traditional to modern, there's a song for every generation.

Apr 26, 23 04:28 PM

Guess the Princess from an image of something they are associated with like a chameleon for Rapunzel or a pea for Princess Daria. Printable game with answers.