Bridal Shower Scavenger Hunt
A Fun Icebreaker Treasure Hunt List for Wedding Showers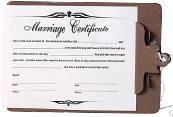 An indoor bridal shower scavenger hunt can be the perfect way to get your guests to mingle and loosen up.
The list below consists of a few things that not all guests may be comfortable with, so feel free to change it to suit your bridal shower.


Game Instructions
Divide your guests into teams if you have enough and see which team can come up with the most items on the list below. Two of the items are good for tie breakers... the anniversary one and the lipstick one.
If you don't have many guests, give each one a copy of the list and have them go around and get signatures beside the items.
Whoever completes the list first or whoever has the most items found in the allotted time wins. 


Bridal Shower Scavenger Hunt List
_____ A marriage license
_____ Someone wearing a red bra
_____ A kissing photo
_____ Birth control
_____ Spare pair of pantyhose
_____ Someone who is a double D
_____ Something blue
_____ Anniversary closest to the wedding date of the bride
_____ Someone with a tattoo in an unseen location
_____ A penny with the bride's year of birth on it
_____ A love letter
_____ Lipstick with the sexiest name
_____ A piece of heart-shaped jewelry
_____ Someone wearing white lace panties
_____ Something that might help the bride on her wedding day


Bridal Shower Purse Scavenger Hunt
Printable Bridal Shower Purse Scavenger Hunt


More Bridal Shower Hunt Ideas
Jan 13, 20 07:44 PM

A challenging list of multiple choice super bowl trivia questions to add to your trivia, football, or Super Bowl parties. Use them as an icebreaker or play a full out competition.

Jan 13, 20 05:29 PM

Can you guess who is who in this JLo vs Shakira trivia? Each fun fact on this printable game is true for one of the divas. Perfect for your Super Bowl 54 party.

Jan 08, 20 05:07 PM

Host a Super Bowl party with great food, games and friends. Add our Super Bowl trivia questions and icebreakers, and get everyone's game predictions pre-party.