Host a Super Bowl Party
Eat, Drink, and Scream for Your Team
Dig out the cheerleader outfit and warm up the barbecue... it's time to plan your next Super Bowl Party!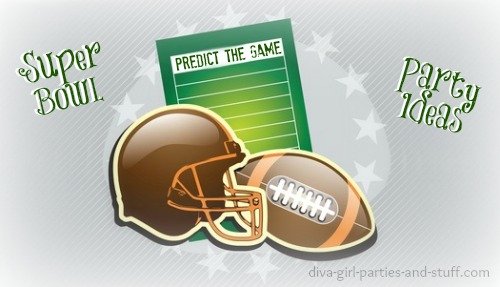 Check out these football and Super Bowl party supplies.


Super Bowl Invitations
Purchase invitations from our Super Bowl Shop or use our free printable Super Bowl party invitations.
There are two invitations per sheet.
They will turn out best printed on card stock paper or any other heavy paper. After printing your Super Bowl invitations, you will need to cut the sheets in half and then fold each invitation along the dotted line. While folded cut around the outside edge of the football being sure to leave a small piece of the middle section at the top attached. You can then use the inside to include your party information.
If for any reason you cannot download this invitation please contact us and we will do our best to get a copy to you.

Super Bowl Decorations
Decorate in team colors.  If your guests favor different teams, decorate one side of the tv room in one team's colors and the other side of the room in their opponent's colors. 

Use tape to create a dividing line down the center of the room.


Have pom-poms scattered about for decorating purposes and would-be cheerleaders.
There is a great football field tablecloth available here, as well as cool football shaped bowls, and numerous other fun decorating items.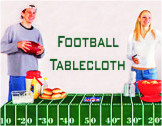 Did You Know?
The Weekend will play the halftime show at Super Bowl 55!

Super Bowl Food and Recipe Ideas
Fun Oreo Cookie Football Helmet Treats
INGREDIENTS
1 pkg. (8 oz.) brick cream cheese, softened

36 OREO Cookies, finely crushed (about 3 cups)

4 pkg. (4 oz. each) white or semi-sweet baking chocolate, melted

16 pretzel twists, each broken into 3 pieces



---
Football Pizza Pockets
INGREDIENTS
1 can (8 oz) Pillsbury™ crescent dinner rolls or 1 pack pizza or pie crust    

1/4 cup pizza sauce    

3/4 cup shredded mozzarella cheese    

1/2 cup sliced pepperoni (24 slices)    

1 teaspoon grated Parmesan cheese 
or what ever ingredients you wish!  :)
---
Watermelon Football Helmet
---

Lots of finger foods. Subs, chicken wings, chips and dips, pizza, nachos and of course, plenty of drinks.

Kraft  has an excellent selection of Super Bowl party recipes... everything from nacho dip to a football-shaped cheese ball. You'll especially love their Chocolate Football Bites. 


Super Bowl Games and Activities
The highlight of a super bowl party is always the game, so be sure that nothing interferes with your guests' enjoyment of the show. Be sure all seats have a clear unobstructed view of the television.
Before the game have your guests each take a guess at who will win and what the score will be. Whoever comes closest to the actual outcome of the game gets a door prize.
Also, have your guests guess how many touchdowns will occur in the game.
If there is a tie for the correct answer have the winners compete in a football kickoff. Whoever kicks the ball the furthest wins. Use a nerf ball indoors or a real foot ball outdoors.


FREE PRINTABLE SUPER BOWL SQUARES
Get your free printable Super Bowl squares and game instructions HERE!


More Super Bowl Party Games
How Well Do You KNow Your Super Bowl Players ?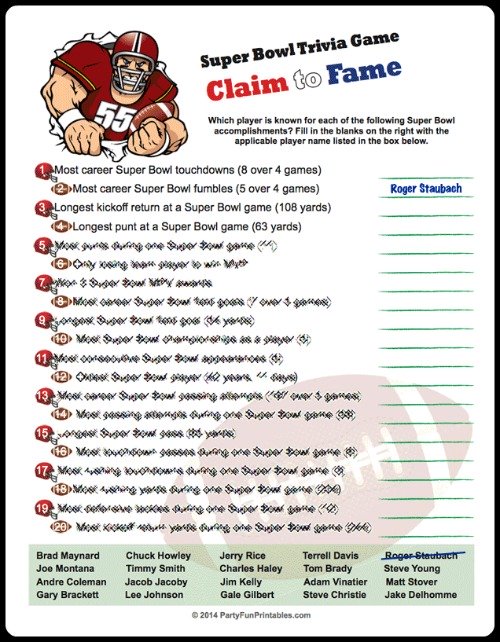 SUPER BOWL PICTURE GAME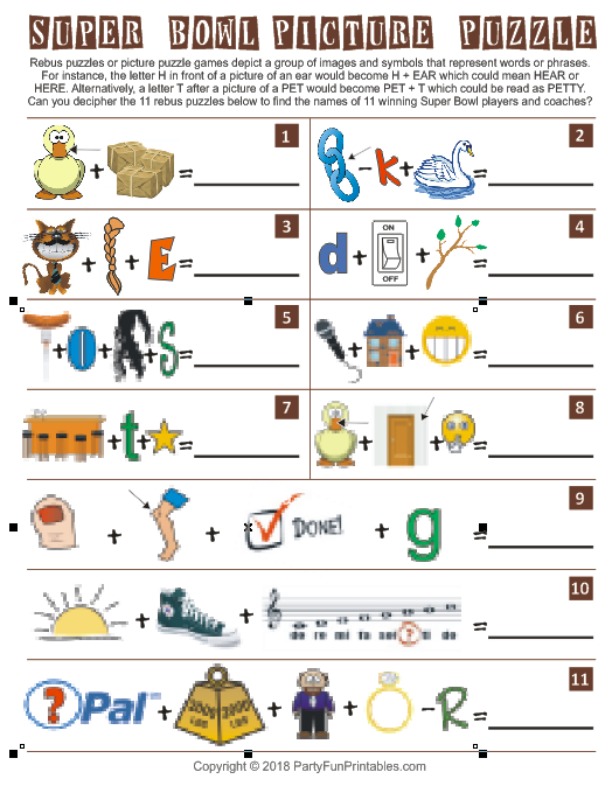 17 Printable Super Bowl Home Party Games
Super Bowl Predictions Game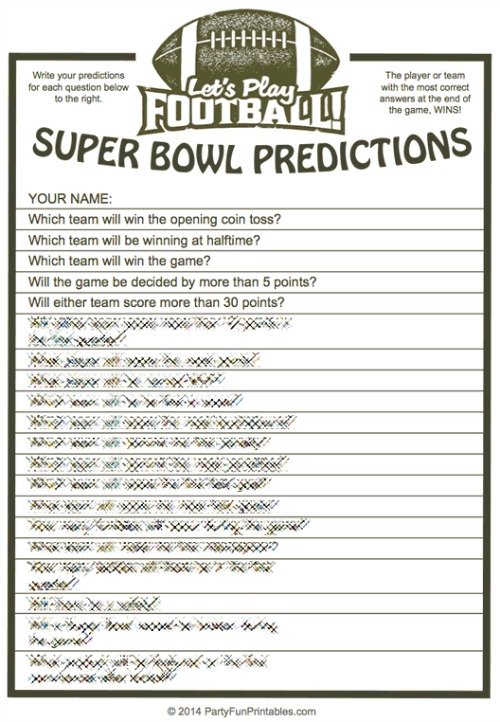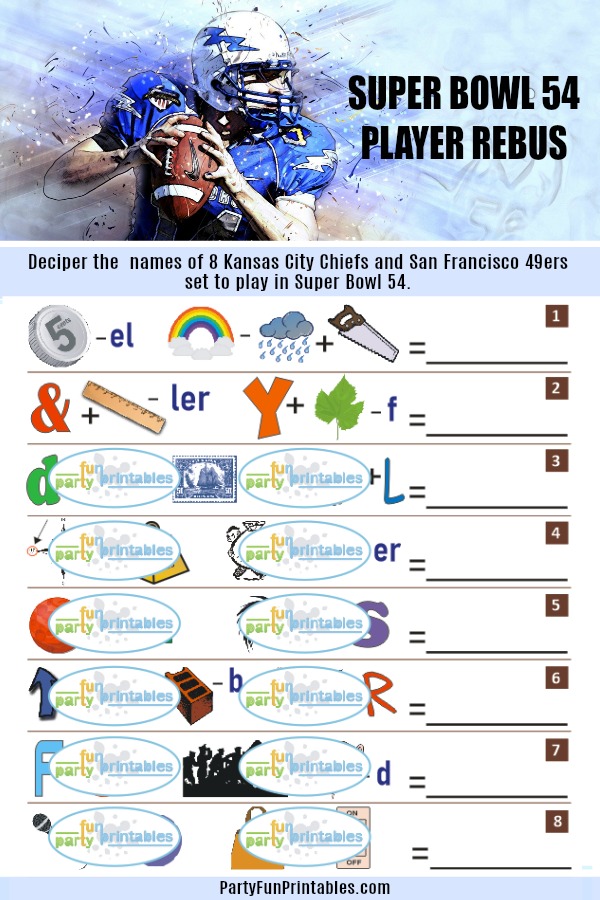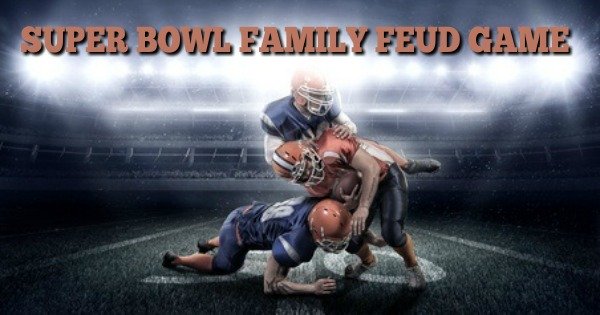 SUPER BOWL FAMILY FEUD GAME WITH EASY INSTRUCTIONS
Diva Game Day Accessories
Super Bowl Game Prizes
Tickets to a local game, any applicable team merchandise or novelty football items. 


Super Bowl Game Favors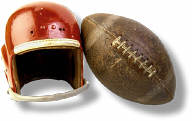 Favors are not really necessary, but if like handing out a parting "thank you for coming" trinket, try making some small cellophane goody bags with 3 or 4 of Krafts chocolate football bites (link above) or give each guest a small novelty football item. 


Aug 11, 21 11:35 AM

Back to Back challenges your observation skills and is a fun game to play at a shower or any other gathering. NEW anniversary version with video just added.

May 25, 21 12:03 PM

Over 100 free scavenger hunts, printable invitations, and fun treasure hunt lists and ideas for every event and occasion. Happy Hunting!

Feb 05, 21 02:31 PM

Host a Super Bowl party with great food, games and friends. Add our Super Bowl trivia questions and icebreakers, and get everyone's game predictions pre-party.