Real Housewives of the NFL Trivia
This Real Housewives of the NFL trivia requires guessing the names of 11 famous football wives from a description of one or more of their accomplishments.  

Yes! These ladies might be married to well-known, successful husbands, but they can definitely hold their own beside them, and they are leaving their personal branded mark and impact on the world.


Real Housewives of the NFL Trivia Questions
01. Former NFL quarterback, Rodney Peete's, wife is an actress and author known for her roles in 21 Jump Street and Hangin' With Mr. Cooper. Her children's book, My Brother Charlie, won a NAACP Image Award. Who is she?

02. In 2012 Tom Brady's beautiful Brazilian wife placed first on the Forbes top-earning model list. She came out of retirement to walk the catwalk at the opening ceremonies of the 2016 Summer Olympics in Rio de Janeiro. Who is she?

03. Eric Decker's wife is a successful singer and songwriter. Her album, Southern Girl City Lights, debuted at number one on Billboard's Top Country Albums chart in 2017. She also has her own fashion line called Kittenish. Who is she?

04. Aaron Ross's wife could give him a run for his money when it comes to athleticism. This US track and field star has won 5 Olympic medals, 4 gold and one bronze. She has also won multiple medals at the World Championships in Athletics. Who is she?

05. Eric Johnson's talented wife has sold millions of albums and starred in multiple tv shows and movies, including Fashion Star and The Price Of Beauty. A few years ago she launched a work out brand called Warm Up. Who Is she?

06. Russell Wilson's musical wife was named after a Revlon fragrance and in 2016 became a Brand Ambassador for that same company. Her third album earned a Grammy award for a song featuring Justin Timberlake. Who is she?

07. Tim Hasselbeck's beautiful wife rose from obscurity to worldwide fame with her appearance on season two of Survivor. She went on to become a well-known talk show host and won a daytime Emmy award for her efforts. Who is she?

08. Philip Wheeler's model and reality tv star wife served in the US Armed Forces . She is known for being "more than just a pretty face," and wants to use her position as a female African-American army officer to make a difference in the world. Who is she?

09. Jay Cutler's talented wife is best known to many for her role on The Hills. In 2018 her own reality tv show was launched, chronicling the opening of her flagship store and featuring her fashion and lifestyle brand, Uncommon James. Who is she?

10. Reggie Bush's Armenian-American wife has appeared as a guest performer on DWTS. Her ballroom dancing talent won her the 2008 US National Dance Championship and the 2010 Rising Star Open Dance Competition. Who is she?

11. Kyle Van Noy's wife, Miss Utah 2013, significantly messed up the interview question when she competed in the Miss Universe pageant. She redeemed herself by moving on to a successful acting career including a role in the movie Ballers starring Dwayne Johnson. Who is she?


REAL HOUSEWIVES OF THE NFL TRIVIA AnswerS
01. Holly Robinson Peete
02. Gisele  Bündchen
03. Jessie James-Decker
04. Sanya Richards-Ross
05. Jessica Simpson
06. Ciara Harris

07. Elizabeth Hasselbeck

08. Ashley Nicole Wheeler (Roberts)
09. Kristin Cavallari 
10. Lilit Avagyan
11. Marissa Powell


Printable Real Housewives of the NFL Trivia
For a free printable Real Housewives of the NFL trivia game fill in the form below.
More Printable Super Bowl Party Games
SUPER BOWL Trivia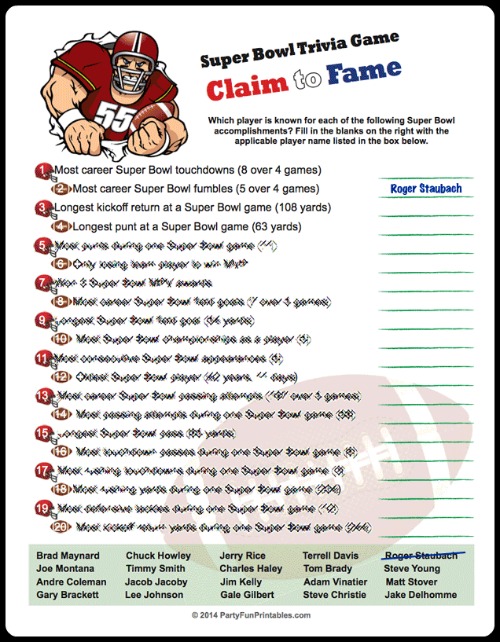 Super Bowl PICTURE PUZZLE GAME
Super Bowl Predictions Game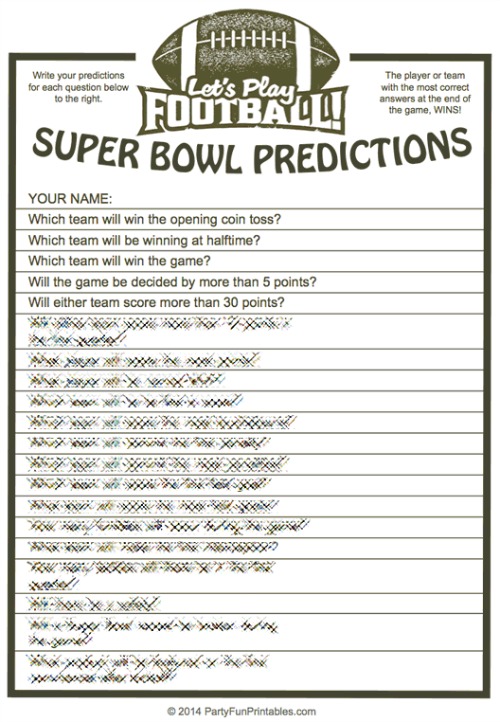 Nov 25, 23 03:52 PM

Printable left right Christmas game based on the story of Scrooge from A Christmas Carol by Charles Dickens. Read the story and pass gifts left and right.

Nov 20, 23 05:55 PM

A crazy Christmas scavenger hunt involves finding unusual Christmas items that have been set up in the hunt area ahead of time. Will your guests spot that Rudolph has a green nose, etc.?

Nov 20, 23 04:58 PM

Over a dozen Christmas scavenger hunts to celebrate the holiday season. Tons of fun Christmas treasure hunt riddles, clues and printable lists.