Easter Bible Verse Scavenger Hunt
Easter Bible Verse Scavenger Hunt Puzzle Game
The Seven Sayings of the Cross
With this Easter Bible verse scavenger hunt puzzle game, your children or Sunday school students will have a blast learning the 7 sayings of the cross.
First, decide how many teams you would like to divide your class into for this game. For each team you will need to print one set of crosses (cardstock paper is preferable). There are 7 crosses which will be cut up into 32 pieces (or however many you would prefer).
The game is fun whether you play with one team or five, but if you DO decide to play in teams you will need one color per team (all of team A's crosses could be purple, all of team B's yellow, etc.) so the teams will know what hidden pieces to look for throughout your play area. 

Click here to request your free printable Easter Bible verse scavenger hunt puzzle game pieces.

Easter Bible Verse Scavenger Hunt Instructions
Cut out puzzle pieces and hide them throughout your play area.


Divide your class into teams and tell them what color they are.


Instruct teams to look for their team's puzzle pieces only(they should leave any other team's pieces where they are if they see them).


Instruct teams that they are looking for 32 pieces in their color (or whatever number you cut the crosses into if you used the customizable crosses) and that those pieces will form 7 crosses. You may also let them know that the crosses have the seven sayings of the cross on them or you may let them guess what all the crosses have in common at the end of the game.


Finally, tell your students that the first team to find all of their pieces AND put all of their crosses together correctly WINS!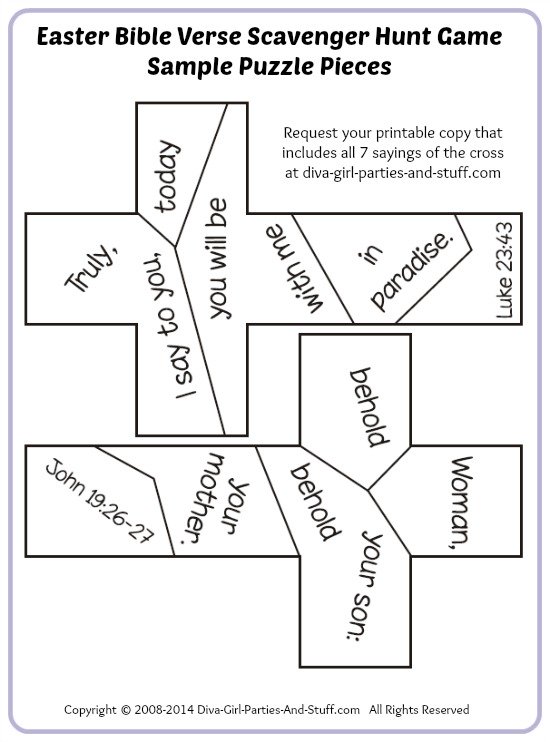 Simply fill in the form below to get immediate access to the game.

IMPORTANT: Be sure your email address is correct
or we will be unable to email the game to you.
More Printable Bible Easter Games
May 02, 22 10:18 AM

Need some last minute Mother's Day games and ideas? We've got some here...

Mar 16, 22 01:08 PM

Host your best St. Patrick's Day party ever with these cool party games and activities. Challenge friends to a round of green trivia, write funny limericks, or play a right left leprechaun game.

Feb 12, 22 05:36 PM

A challenging list of multiple choice super bowl trivia questions to add to your trivia, football, or Super Bowl parties. Use them as an icebreaker or play a full out competition.