Christmas Candy Game with Nativity Story Clues
How well do you know your candy? Find out with this Christmas candy game. Each clue is related to the nativity story and each answer is the name of a popular candy or chocolate bar.
I personally like to purchase a single serving or package of each candy and put them in a box or small treasure chest. I then read each clue and give the first person who guesses the correct candy name that item of candy as their prize.
CLUE: Possible nickname for the wisemen?
ANSWER: Smarties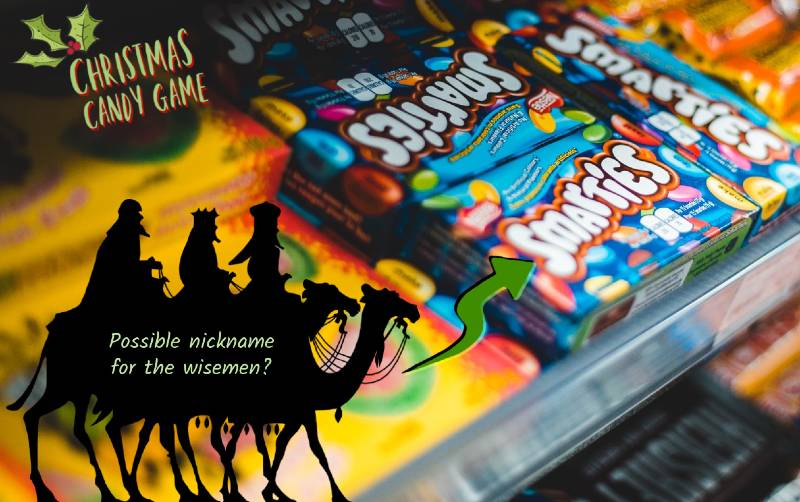 If you are playing in a large group it's a good idea to set some rules ahead of time. 
For example:
Each person can only win two pieces of candy. After that they can only guess if no one else knows the answer. If they get it right they have to gift that candy to someone else at the party/event.
Have guests jump up or raise their hand if they know the answer. That way it's easier to see who was first and when several jump at the same time, it allows you the chance to choose someone who hasn't had an opportunity to guess yet.  Be prepared. People will still shout out the answers, but if you set the rules ahead, they'll know that shouting first does not mean you get first dibs on the win.
Some clues are easier then others.  Don't be afraid to give guests a bit of time to figure out the answer. If they can't come up with an answer, expand the clue as needed or give the answer.
Guess the Name of Popular Candy and Chocolate Bars
The answer to each of the following clues is the name of a popular candy or chocolate bar. How many can you name without peeking at the answers (below)?
Christmas Candy Game Clues
How Jesus is often associated with the season.


What the wiseman may have seen in the sky.


The time Jesus may have been born.


Sounds you may have heard from young girls in town when they found out Mary was pregnant before marriage.


Shape the hay may have been stacked in the stable.


Jesus was born approximately 101 ________ years ago. Fill in the blank.


What Mary may have showered baby Jesus with.


How the angels may have been lined up when they made the announcement of Jesus' birth to the shepherds.


How many wisemen showed up at the stable on the night of Jesus' birth?


Possible nickname for the wisemen?


In modern times, people with the knowledge, skill, and focus of the wisemen might also get this nickname.


What the gifts of the magi might have been called if the wisemen were pirates.


What Mary might have said to the wisemen after receiving the gifts.


Christmas Candy Game Answers
Reison  (Jesus is the Reason for the Season)


Starburst


After Eight


Snickers


Mounds


Skor  (Expanded clue - Think about Lincoln's speech)


Kisses


Aero (Sounds like "a row")


Zero (The wisemen didn't arrive till many days or probably months after the birth)


Smarties


Nerds


Bounty


Merci (Expanded clue - Mary's response if she were French)


Candy Used in Chrismas Candy Game
You can usually find single serving candy bars, etc. at dollar stores, grocery stores, and convenience stores, but in case there are any candy brands you cannot find, here they are.
As an Amazon Associate I earn commissions from qualifying purchases. 
If you click on a product and buy, I earn a small commission at no cost to you.
Nov 25, 23 03:52 PM

Printable left right Christmas game based on the story of Scrooge from A Christmas Carol by Charles Dickens. Read the story and pass gifts left and right.

Nov 20, 23 05:55 PM

A crazy Christmas scavenger hunt involves finding unusual Christmas items that have been set up in the hunt area ahead of time. Will your guests spot that Rudolph has a green nose, etc.?

Nov 20, 23 04:58 PM

Over a dozen Christmas scavenger hunts to celebrate the holiday season. Tons of fun Christmas treasure hunt riddles, clues and printable lists.