Baby Shower Candy Poem Game
Enjoy using this baby shower candy poem game for your showers and parties. Thanks for not posting it on any website, forum, blog, ezine, etc. Instead, post a link to this page if you would like to share the poem with your online friends and community.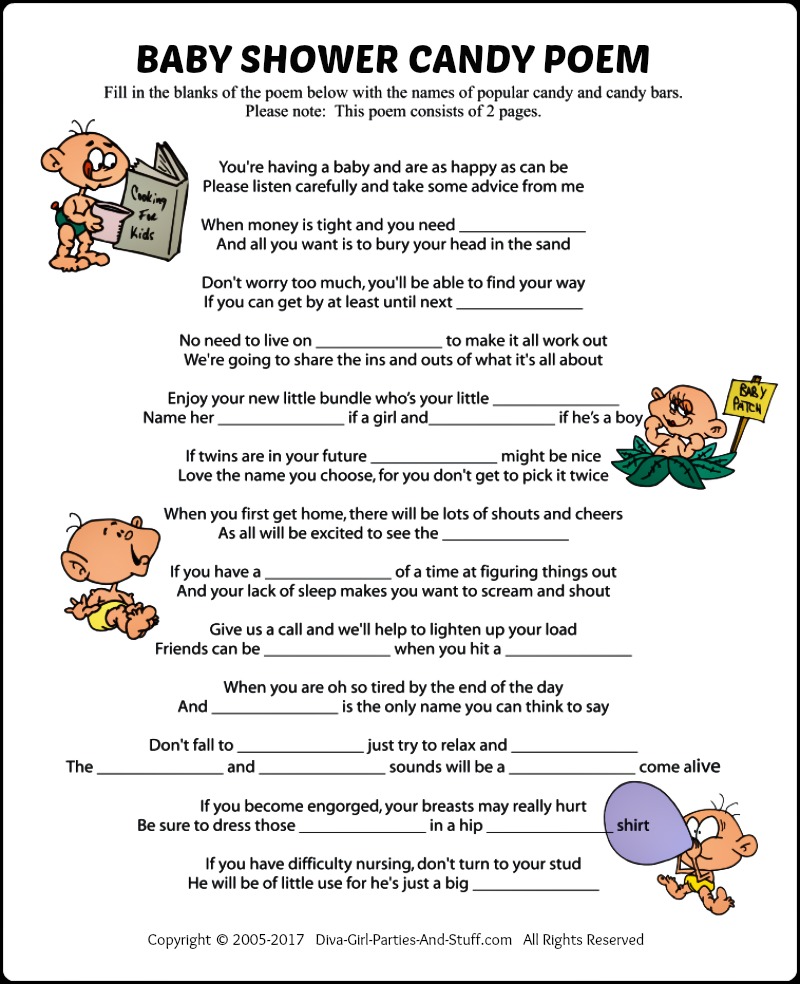 Baby Shower Candy Poem
Pass out a copy of this candy poem, leaving the underlined words blank. The underlined words represent popular candy names and those playing the candy poem game will need to decide what candy best suits each blank. 


You're having a baby and are as happy as can be
Please listen carefully and take some advice from me

When money is tight and you need 100 Grand
And all you want is to bury your head in the sand

Don't worry too much, you'll be able to find your way
If you can get by at least until next PayDay

No need to live on Fifth Avenue to make it all work out
We're going to share the ins and outs of what it's all about

Enjoy your new little bundle who's your little Almond Joy
Name her Baby Ruth if a girl and Oh Henry if he's a boy

If twins are in your future Mike & Ike might be nice
Love the name you choose, for you don't get to pick it twice

When you first get home, there will be lots of shouts and cheers
As all will be excited to see the 3 Musketeers

If you have a Whopper of a time at figuring things out
And your lack of sleep makes you want to scream and shout

Give us a call and we'll help to lighten up your load
Friends can be Life Savers when you hit a Rocky Road

When you are oh so tired by the end of the day
And Whatchamacallit is the only name you can think to say

Don't fall to Pieces just try to relax and Take Five
The Razzles and Goo Goo sounds will be a Symphony come alive 

If you become engorged, your breasts may really hurt
Be sure to dress those Mounds in a hip Milky Way shirt

If you have difficulty nursing, don't turn to your stud
He will be of little use for he's just a big Milk Dud

If you spill a little milk while you let your gaze linger
Don't be surprised if they call you Miss Butterfinger

If noises from the diaper sound like a Krackel in the air
Take a peek inside and check for a Hershey bar in there

When it's bath time and you're ready to wash your little love
Nothing is more gentle than a plain old bar of Dove

If you see Dots on their tush and know diaper rash is about
The best thing you can do is to let it just air out

If the crying is driving you Bonkers and you haven't seen a comb 
You'll be very happy when the Big Daddy comes home

Never knew the Tearjerkers that Sugar Babies could be
These are the things they fail to mention when baby makes it three

You won't be getting out and may feel like two big Nerds
You'll long for the days when you were a couple of lovebirds 

If your love life hits a Sour Patch and you're really in a Crunch
Call your hubby right at noon and invite him home for lunch

Go to Victoria's Secret and have a little shopping Spree
Who knows, someone looking to Skor might end up getting lucky

If Chuckles and Snickers are the major thing you fear
Because you're still feeling a little Chunky in the rear

Remember that he loves you like when he said "I do"
And you'll be a Jolly Rancher when the two of you are through

On a serious note, please heed this important advice
Having a new baby can be so very nice

Be a couple of Smarties and fall into each other's arms
Remember to say I love you and enjoy one another's Charms

Happy times are Good & Plenty if Hugs & Kisses you do share
Now that there are three of you there's more love in the air


For a printable version of the candy poem game, fill in the form below.

The poem lady, Jill Starishevsky, wrote this candy poem as a fun alternative to the popular baby shower candy story games. Jill is a talented poet and writes custom poems for many baby showers, bridal showers, and other special events. Hire Jill to write a poem for your next celebration and give the guest of honor a truly memorable treasure. 

Details on how to order one of Jill's custom poems.



Nov 25, 23 03:52 PM

Printable left right Christmas game based on the story of Scrooge from A Christmas Carol by Charles Dickens. Read the story and pass gifts left and right.

Nov 20, 23 05:55 PM

A crazy Christmas scavenger hunt involves finding unusual Christmas items that have been set up in the hunt area ahead of time. Will your guests spot that Rudolph has a green nose, etc.?

Nov 20, 23 04:58 PM

Over a dozen Christmas scavenger hunts to celebrate the holiday season. Tons of fun Christmas treasure hunt riddles, clues and printable lists.