Romantic Movies Trivia Challenge
A Cupid Approved Valentine Party Game
Can you guess these romantic movies from their synonymous descriptions?

Cuddle up with your sweetheart and test your knowledge of romantic films or play this game at a Valentine party, movie party, couples' retreat or bridal shower.

For a party setting, read each synonymous movie title aloud and have guests compete to determine each movie they represent.
Give a small prize, like a chocolate heart or a rose, for each correct answer or award a grand prize to the person, couple, or team with the most correct answers all around.

Can you guess the popular romantic movie titles?

Synonymous Romantic Movie Titles Quiz
01. Breezy Departure
02. Commemorative Stroll
03. Pummeled by a Celestial Body
04. Vainglorious Discrimination
05. Italian R&R
06. Insomnolence in Emerald City
07. Subsequent Eternity
08.Moroccan Locale of Romance
09. Quadruple Nuptials and Last Rites
10. Away from Sahara Land
11. Romantic vs. Rational
12. Reservation of Final Rhythmic Movement
13. Chronicled Love
14. Colossal Sinking Floater
15. Pulchritudinous Lady
16. A Cavalier Marine
17. Jeweled Daybreak Repast
18. Gloaming Concourse
19. The Nuptial Cantatrice
20. Royal Impending Helpmate
21. Vialed Missive


More Romantic Movies Trivia Games
Romantic Movies Valentine Game Answers
01. Gone With the Wind / 02. A Walk to Remember / 03. Moonstruck / 04. Pride and Prejudice / 05. Roman Holiday / 06. Sleepless in Seattle / 07. Ever After / 08. Casablanca / 09. Four Weddings and a Funeral / 10. Out of Africa / Sense and Sensibility / 12. Save the Last Dance / 13. The Notebook / 14. Titanic / 15. Pretty Woman / 16. An Officer and a Gentleman / 17. Breakfast at Tiffany's / 18. Sunset Boulevard / 19. The Wedding Singer / 20. Princess Bride / 21. Message in a Bottle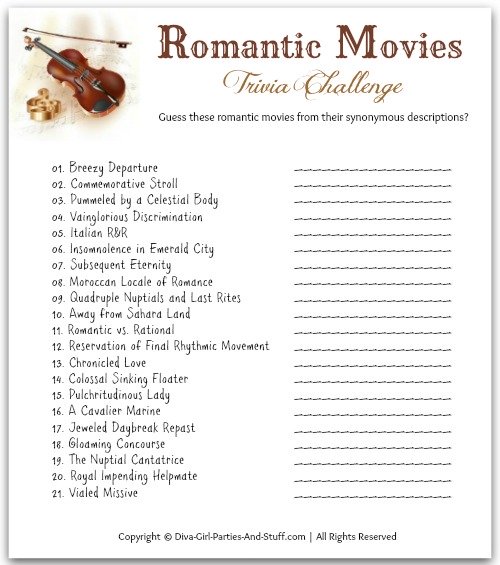 Join in on Party Chats at Diva Girl Parties and Stuff Facebook.


Oct 16, 18 01:35 PM

Vintage Christmas parlour games to add fun, cozy, memorable moments to your yuletide family gatherings and social events.

Aug 09, 18 02:32 PM

Tell your guests to listen closely as you read the following right left bridal shower game story. Have them pass the gifts to their left or right whenever they hear those words read. Free printable ve…

May 11, 18 03:38 PM

Mothers Day ideas for celebrating the love, time and sacrifices moms invest in their children.