Valentine and Wedding Love Songs Game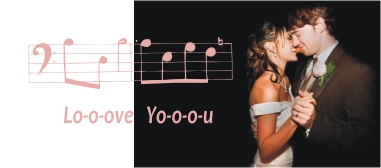 For a Valentine party or bridal shower a wedding love songs game is an excellent addition to the fun.
Read each of the synonymous love song titles aloud to your guests and have them compete to be the first to guess the correct title.

The titles of romantic love songs have been exchanged for synonymous titles, making for a challenging and unique Valentine or wedding love songs trivia.
Award small prizes for each correct answer or award points and give one larger prize to the person with the most correct answers at the end of the game.
How many love song titles can you decipher?
Guess first and then scroll to the bottom of this page for the answers.
---
Love Songs Synonymous Titles
01. Involuntary Lack of Amour Resistance

02. Give Me Gentle Affection

03. Adoration Ad Infinitum

04. Your Current Nocturnal Presentation

05. Query of Recent Asseveration

06. Personal Personage of Vigilant Observation

07. Enduring Remembrance

08. Nether Wafting of Aliform Appendages

09. Greetings

10. Puissant Amour

11. Inveterately Value

12. Initial Glimpse of Visage

13. Thine Exact Existence

14. Oh Thou of Overwhelming Pulchritude

15. Crimson Inflorescence

16. Powerless to Increased Supplication

17. Inability to Cease Ocular Admiration

18. My Complete Existence

19. Awe-Inspired

20. A Defined Sliver of Time


Printable Love Song Games:
Wedding Love Songs Game Answers
01. Can't Help Falling in Love / 02. Love Me Tender / 03. Endless Love / 04. The Way You Look Tonight / 05. Have I Told You Lately? / 06. Someone to Watch Over Me / 07. Unforgettable / 08. The Wind Beneath My Wings / 09. Hello / 10. The Power of Love / 11. Cherish / 12.The First Time Ever I Saw Your Face / 13.Just The Way You Are / 14. You Are So Beautiful / 15. The Rose / 16. I Could Not Ask For More / 17. Can't Take My Eyes Off You / 18. All My Life / 19. Amazed / 20. A Moment Like This



Downloadable Wedding Love Songs
Valentine Party Games

Bridal Shower Games


Join in on Party Chats at Diva Girl Parties and Stuff Facebook.


Dec 10, 18 05:29 PM

12 days of Christmas legend game based on the story of Christians using the song lyrics as a secret code to learn and share their faith while avoiding persecution. Can you match each gift with its sym…

Nov 16, 18 03:32 PM

Test your punniness with this Christmas riddles trivia game. Includes a variety of questions related to the holiday. Printable available for download in 2 versions, one with an answer box and the othe…

Oct 16, 18 01:35 PM

Vintage Christmas parlour games to add fun, cozy, memorable moments to your yuletide family gatherings and social events.