St. Patrick's Day Trivia Game

Pot  O' Trivia
Try your luck with this St. Patrick's Day trivia game. Opt to include the answer box and match the clues to the answers, or go without the answer box to make it more challenging. Both versions are available as downloadable printables below.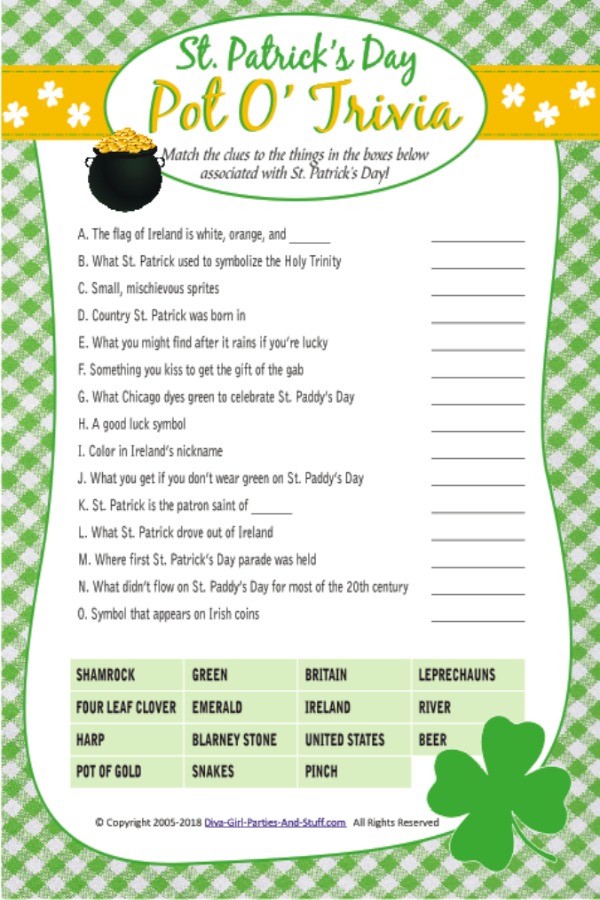 St. Patrick's Day Trivia Questions
A. The flag of Ireland is white, orange, and _______
B. What St. Patrick used to symbolize the Holy Trinity
C. Small, mischievous sprites
D. Country St. Patrick was born in
E. What you might find after it rains if you're lucky
F. Something you kiss to get the gift of the gab
G. What Chicago dyes green to celebrate St. Paddy's Day
H. A good luck symbol
I. Color in Ireland's nickname
J. What you get if you don't wear green on St. Paddy's Day
K. St. Patrick is the patron saint of _______
L. What St. Patrick drove out of Ireland
M. Where first St. Patrick's Day parade was held
N. What didn't flow on St. Paddy's Day for most of the 20th century
O. Symbol that appears on Irish coins
ANSWER BOX 
Possible answers in no particular order.
SHAMROCK
4 LEAF CLOVER
HARP
POT OF GOLD
SNAKES
GREEN
EMERALD
BLARNEY STONE
RIVER
BEER
BRITAIN
IRELAND
UNITED STATES
PINCH
LEPRECHAUNS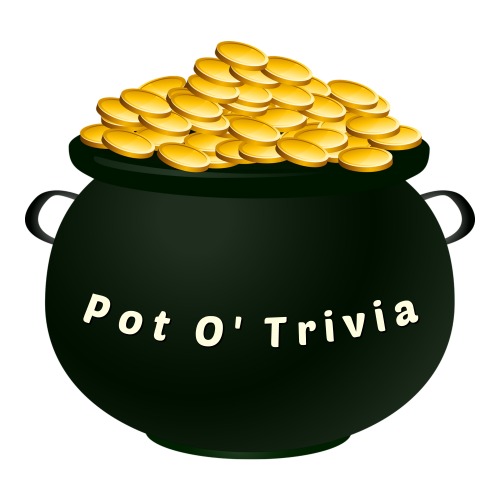 Fill in the form to receive your free printable Pot O' Trivia St. Patrick's Day games, including the answer sheet.



ST. PATRICK'S DAY TRIVIA ANSWERS
A. Green
B. Shamrock
C. Leprechauns
D. Britain
E. Pot of Gold
F. Blarney Stone
G. River
H. Four leaf clover
I. Emerald

J. Pinch
K. Ireland
L. Snakes
M. United States
N. Beer
O. Harp
Join in on Party Chats at Diva Girl Parties and Stuff Facebook.


Dec 10, 18 05:29 PM

12 days of Christmas legend game based on the story of Christians using the song lyrics as a secret code to learn and share their faith while avoiding persecution. Can you match each gift with its sym…

Nov 16, 18 03:32 PM

Test your punniness with this Christmas riddles trivia game. Includes a variety of questions related to the holiday. Printable available for download in 2 versions, one with an answer box and the othe…

Oct 16, 18 01:35 PM

Vintage Christmas parlour games to add fun, cozy, memorable moments to your yuletide family gatherings and social events.