Slumber Party Game - Man Hunt
Slumber Party Game - Man Hunt
by Lexi
(CA)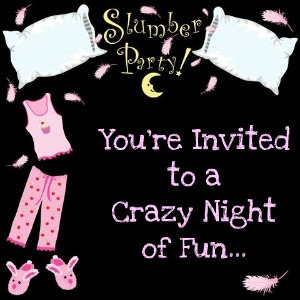 You're Invited to a Slumber Party


The 1st thing we did at our slumber party was play man hunt (best when dark outside).



Items Needed:
1-3 flashlights for each team.

4+ people ages 6 and up.
Directions:
Team A counts first to 60 while team B hides anywhere outside.

Pick anywhere in the backyard for jail and anywhere in the frontyard for base.

Team A uses the flashlights while they are looking for the other team.

Once team B is found they have to run away from team A and get to base.

If they get tagged then they have to go to jail.

Once you're on base you're safe, but if you step off then you can still be tagged.

If team B makes it to base except for 1 person then team B will have to get off base and try to tag whoever .

Iif team B makes it to base altogether then they get to hide again (hiding is more fun!!!)

Or if team B is all in jail then they have to count!
This game super fun!
Also for tweens you should have a sleepover and serve popcorn, candy, nachos, chips, soda, etc... anything that will make them feel like they are more "free" and only because their birthday is once a year.
Join in and write your own page! It's easy to do. How? Simply click here to return to Girl Birthday Party Ideas.
Nov 25, 23 03:52 PM

Printable left right Christmas game based on the story of Scrooge from A Christmas Carol by Charles Dickens. Read the story and pass gifts left and right.

Nov 20, 23 05:55 PM

A crazy Christmas scavenger hunt involves finding unusual Christmas items that have been set up in the hunt area ahead of time. Will your guests spot that Rudolph has a green nose, etc.?

Nov 20, 23 04:58 PM

Over a dozen Christmas scavenger hunts to celebrate the holiday season. Tons of fun Christmas treasure hunt riddles, clues and printable lists.