Chloe's Birthday Party Ideas
by Chloe
(England)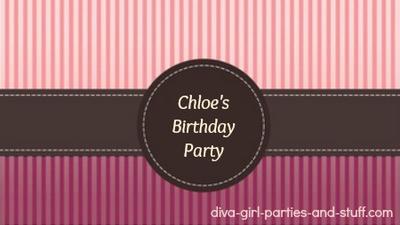 Birthday Party Ideas for Girls
For my birthday 13 people, including me, are all coming my house on the 12th of January and basically everyone's arriving at 3pm.


My Birthday Party Plans
Mess around and take loads of pictures.


Eat food that's not too dear (too expensive) such as buying loads of ingredients to make a chilly and curry rather than buying 7 or 8 pizzas (it depends on how many people are coming - haha).


Play Murder in the Dark

If you don't know how to play it then basically one person puts a blind fold on and spins to whatever age they are. Eg. If you are 12, spin 12 times. The lights have to be off and then everyone who does not have a blindfold on has to hide and run about while the person in the blindfold has to catch someone. It's so so so so much fun.


My next door neighbour is coming round and putting acrylics on for us.


We're doing nails, face masks, blindfolded makeovers, and putting on lip tattoos.


We're watching some movies like Mean Girls, Ted, Keith Lemon: The Movie, Rio, and Scary Movie 1, 2, 3, and 4.
The best thing to do is an all-nighter or play a game where you pass the parcel. That's too babyish for me as I'm nearly 13. I'm going to do pass the parcel, but instead of prizes and sweets we're putting dares in like "lick the floor" or "text this person and ask them out."
Hope I helped guys.
Chloe
x
More Slumber Party Games
Join in and write your own page! It's easy to do. How? Simply click here to return to Girl Birthday Party Ideas.
Feb 12, 23 04:19 PM

Add an extra challenge to game day with this Super bowl picture puzzle rebus. Guess the names of 10 players from the Kansas City Chiefs and Philadelphia Eagles.

Feb 12, 23 04:16 PM

Host a Super Bowl party with great food, games and friends. Add our Super Bowl trivia questions and icebreakers, and get everyone's game predictions pre-party.

Nov 23, 22 03:29 PM

12 days of Christmas legend game based on lyrics used as a secret code to share faith and avoid persecution. Match each gift with its symbolic Christian meaning