Funky Nail Art Party
The Ultimate Girly-Girl Social
When you're feeling like a fun get-together with the girls, plan a funky nail art party.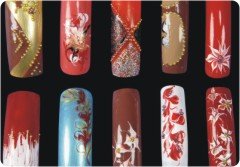 Gather or purchase an assortment of nail polish, or have your friends bring their favorite nail polish colors.

Also, stock up on a variety of random accessories and tools to use to inspire creative design ideas. 


Party Invitation Ideas
Try making your own invitations. It's great fun!
Draw around the shape of your own hand onto a piece of plain paper or card stock paper.
Carefully cut out the hand shape and then draw nails on the tips of each finger.
Decorate the nails using felt tip pens, glue, glitter, stickers, nail gems, metallic shapes or even real nail varnish. Be as creative as you can.
On the other side of the hand write out all of the party details... who, what, where, and when.
Why not ask each of your guests to bring a bottle of their favorite nail polish with them? You could then make it a 'bring a bottle' funky nail art party. 


Party Decoration Ideas
Using a mixture of brightly colored paper, cut out hand shapes and then string them together.
Hang funky colored streamers and create fun nail stations with matching tablecloths and manicure accessories.
Sprinkle some metallic or jeweled confetti on the tables. Who knows? Someone might use them for their nail art creations. 



Funky Nail Art Party Activities
Paint and decorate each other's fingernails.
Choose your favorite nail art design and practice them on each other.
Decorate toenails as well as finger nails. Have a nail fashion show and give prizes for the best and worst dressed nails.
Remember to take pictures of your little works of art. 


Party Music
Make a mixed cd of your favorite songs in advance. That way your favorite tunes will keep playing during the party and you won't have to break away from the nail decorating fun to change the music.

Side Note: It will also help avoid smudges that might occur when you have to fumble through your cd collection. 


Nail Art Party Food Ideas
Provide finger food to help avoid smudges. Pizza cut into slices is a good idea. Chocolates, bite-sized sandwiches, crackers and cheese, and dessert squares are also great suggestions. 


Oct 16, 19 02:57 PM

Plan to play Family Feud game Halloween edition at your next Halloween party using our survey Q&As. Check out the fun video to spark ideas for making your game spooktacular. Time to play!

Sep 03, 19 05:55 PM

10 printable princess tea party bingo cards with draw cards. Print in color or black and white. Use candy or pencils to mark squares as they are called.

Jun 30, 19 09:15 AM

Canada Day ideas to add fun and colour to your celebration.