Home Spa Party Ideas and Printables for Hosting Unforgettable Girl Pamper Parties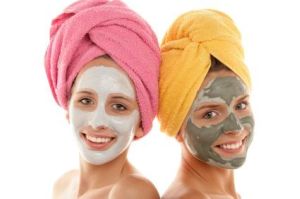 Party Theme
Home Spa Party
Spa Party Invitations
Use our NEW printable spa party invitations or create your own. They simply need to be printed and folded.
We also have printable Victorian era spa invitations. The invitations look especially beautiful printed on parchment paper. (Parchment paper is available at most office supply stores.)
After printing the Victorian invites, cut around the edges and fold. Next, print, cut and fold this matching envelope.
Alternatively, you could tie special soaps or candles with raffia or ribbons and attached a tag inviting your guests. This works well if you have the ability to hand-deliver your invitations or if you don't mind the cost of packaging them properly and mailing them.
Spa Party Supplies and Decorations
Candles! Lots of candles and soft lighting. Candles create a tranquil atmosphere... a cozy, peaceful setting.
Set up small intimate seating areas around tables with beautiful aromatic hand creams, nail polishes and nail grooming tools. Include some small plates of chocolates and candy. Have some soft instrumental music playing.
Also, a great added touch is to provide your guests with bottles of water (in keeping with your decor) at any relaxation station. Try replacing the original labels on bottled water with these printable water bottle labels. It doesn't take much work to add this special touch to your party. Give one to each of your guests as they arrive and/or have them scattered about the room in pretty baskets.



Foods for a Spa Party
Fresh fruit and vegetables trays are perfect for a

spa party. Add some delicious creamy or zesty dips for the vegetables and chocolate fondue, whipped yogurt or caramel dips for the fruit.
Cheese trays and shrimp rings are also excellent choices. Make them up yourself or order them from your local deli.
If you're feeling ambitious a few canapes and petite fours would also add to the luxuriousness of your home spa party. You can find some great recipes at allrecipes.com.
Home Spa Party Games
Spa parties are all about relaxation and conversation, so in general any games that are low on preparation time and high on initiating vibrant chat will be winning choices.
Home Spa Party Activities
For those of you who can afford it, hire a professional or two to come in and do massages, facials, manicures and/or pedicures. Nowadays there are even mobile spas available in a lot of cities.
For those of you on a tighter budget... Have someone you know with experience in essential oils come down and give an interactive teaching and demonstration on making natural beauty products at home. If you don't know someone you may be able to hire someone. Otherwise, do some research at Essential Oil Recipes. They have a great selection of home spa party recipes and aromatherapy information.
There are also several homemade spa party recipes available in the free beauty tips ebook you'll receive when signing up for Girl Stuff.
Prepare a short teaching on what you've learned to share with your guests.
Set up a table for your guests to make one or more beauty products and demonstrate step by step how to make the products. (Be sure to test the products beforehand.)
The dollar store has a lot of pretty glass bottles and jars that are perfect for putting homemade massage oils, body lotions, body scrubs or facial masks in (some of them sell for as little as 3 for $1).
One easy, inexpensive body scrub recipe to try requires only three ingredients:
1/8 cup fine sea salt
1/4 cup grapeseed,apricot or almond oil
1-2 drops essential oil of choice
(Adjust the recipe to suit the amount you would like to make)
Store in a cool area.
Instructions:
1. Place salt in a widemouthed jar and cover with grapeseed, apricot, or almond oil. Scent with essential oil. Stir well.
2. To use, dampen your body and vigorously but gently massage the salt and oil mixture into the skin in a circular motion. Be careful to avoid any scratched or wounded areas. Rinse with warm water. Dry with a towel.
Let your guests sample their creations on their hands or let them take turns giving each other a hand scrub, massage and lotion treatment.

Instructions for giving a simple hand massage.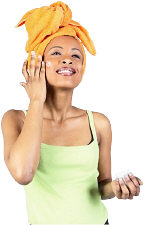 If you've got the room and the time, try a facial mask recipe and then let your guests put it on, sit back, and relax to soft music and candlelight as they wait for their masks to set.
Be sure to have lots of fresh warm towels on hand and easy access to rinse water. You might want to throw the towels in the dryer while your guests are resting with their masks on.
Note: Lavender essential oil is very soothing and relaxing as well as others. Essential oils are available at health food stores and the price range is quite wide. You may want to pick 1-3 scents in a price range you can afford. Sea salts and grapeseed oil are very affordable.
There are some precautions you need to take with essential oils because they are highly concentrated extracts.

Keep away from eyes.
Never take them internally.
Do not apply them directly to skin (always mix them with a carrier oil like grapeseed, mineral, almond or apricot oil).
Don't increase the amount of essential oil in a given recipe. (Some oils are toxic in large amounts.)
Do not use on pregnant women or children under the age of two.
Keep in mind that ginger, lemon, orange and bergamot essential oils can cause skin irritation if exposed to sun, so don't go out in the sun for 6 hours after using these oils in your recipes.
If you have any questions about essential oils, be sure to do some research and/or talk to a natural health professional.
Home Spa Party Prizes
A great door prize for a home spa party would be a gift certificate for a massage, a manicure, a pedicure, a facial or any other beauty treatment. Also, a basket of bath and beauty products is always a good choice.
Home Spa Party Favors
Print a copy of Create a Home Spa on pretty paper. Roll it up (like a diploma) and tie a piece of ribbon or raffia around it. You could also add a beautiful candle and tie them together.
(Note: The Create a Home Spa article mentioned immediately above was written by Julie Hunt - founder of SHE, the foremost inspiration and personal development resource for women who want to live brilliant, happy, successful lives.
Tie a facecloth and a bar of body soap together with raffia or ribbon.
Get some small pretty jars or sachet bags and fill them with bath beads, bath salts or your own homemade scented epsom salts.
Note: To view printable pages above, you will need Adobe Reader installed on your computer (the latest version is recommended). You can get your free Adobe Reader here (a new window will open so you can download without leaving this page).
More Home Spa Party Ideas
Do You Have a Favorite Spa?
Click Here to Share it With Us.
Nov 25, 23 03:52 PM

Printable left right Christmas game based on the story of Scrooge from A Christmas Carol by Charles Dickens. Read the story and pass gifts left and right.

Nov 20, 23 05:55 PM

A crazy Christmas scavenger hunt involves finding unusual Christmas items that have been set up in the hunt area ahead of time. Will your guests spot that Rudolph has a green nose, etc.?

Nov 20, 23 04:58 PM

Over a dozen Christmas scavenger hunts to celebrate the holiday season. Tons of fun Christmas treasure hunt riddles, clues and printable lists.