Chocolate Fondue Party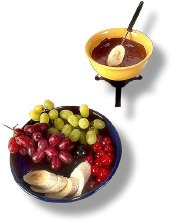 Note: A printable Chocolate Fondue Party invitation will be added soon.
Imagine the scene. You and your friends are together, chatting, laughing, and eating. It's a summer's day in the garden, or a chilly evening around a roaring fire. You're all craving chocolate – that number one desired treat for all girls!
Can you envision it? Luscious fresh fruit, delicious treats, and chocolate! Yes, chocolate. No need to wait for dessert, just have a chocolate fondue fun party. Does this sound like your idea of heaven? Well then, you are about to be transported!
First, you need to know how to create this relaxed gourmet experience.
Do you have to spend hours shopping? No.
Do you have to spend hours cooking? No.
Do you need to quickly brush up on your culinary skills? No.
Do you have to spend hours cleaning up afterwards? Definitely not.
Usually the bowls are wiped very clean!
A chocolate fondue party is perfect for a casual get together, or a girls night in. It's high on fun, and low on the things that make fun hard work.
If you can melt chocolate (place your very favorite edible chocolate in a microwave and heat for 10 seconds at a time), and if you can wash and chop fruit – you're pretty much on your way. Of course, you'll need a fondue pot or two to keep your creations warm.
Gather, purchase, beg, borrow, or scour your cupboards and refrigerator for...
100g of plain chocolate, chopped
100g white chocolate, chopped
100g milk chocolate, chopped
9 tablespoons double cream
1 tablespoon of Barcardi or Grand Marnier
A small pineapple
2 medium bananas
125g of strawberries
125g cherries
2 medium pears
3 fondue pots
Note: Fruit choices are optional to your tastes. Be sure to wash whatever fruits you use. The ingredients noted above usually make 4–6 servings.
Now for the science!
Place the chocolate in separate bowls; melt either in a microwave or over hot water in a saucepan (in a bowl that fits snugly onto your saucepan and does not touch the hot water below).
Whatever method you choose to melt the chocolate for your chocolate fondue – do be gentle. Chocolate reacts badly to heat. It can easily be scorched, and spoils if it comes into contact with any moisture. So, gently and carefully does it.
Heat the cream in a pan or in the microwave, until boiling hot. Then, add three tablespoons of the hot cream into each of the bowls of chocolate and gently stir. Add the liqueur or Barcardi to the white chocolate mixture and mix again.
Set the fondue bowls over the lowest possible heat setting to keep your creations gently melted. Surround the fondue pots with the washed fruit. Cut the fruit as you need it, and dip it immediately into the rich melted chocolate fondue.
To create an unforgettable atmosphere light some candles, serve the chocolate in your prettiest bowls, and arrange the fruit and treats on plates with style.



While eating chat over "who can think of the most
deliciously different things to dip into the chocolate fondue", and the craziest!

You can cut-up and dip almost anything, from cakes and biscuits to exotic fruits. The most essential ingredient, however, is to share the experience with friends. So, dip, chat, laugh, eat and enjoy. That's chocolate fondue fun.
For more chocolate fondue recipes and chocolate fun visit best-chocolate-recipes-online.com and be sure to check out their delicious chocolate drink recipes. They will add that extra bit of zing to your chocolate party.


Mmmmmmmmm... Chocooooooooolate!
>

Be extra creative and combine your Chocolate Fondue Party with a Home Spa Party. Tie in the theme by making or using some chocolate based spa treatments. How luxurious would that be?


Nov 25, 23 03:52 PM

Printable left right Christmas game based on the story of Scrooge from A Christmas Carol by Charles Dickens. Read the story and pass gifts left and right.

Nov 20, 23 05:55 PM

A crazy Christmas scavenger hunt involves finding unusual Christmas items that have been set up in the hunt area ahead of time. Will your guests spot that Rudolph has a green nose, etc.?

Nov 20, 23 04:58 PM

Over a dozen Christmas scavenger hunts to celebrate the holiday season. Tons of fun Christmas treasure hunt riddles, clues and printable lists.