Crazy Bowl
Creatively Fun Bowling Party Game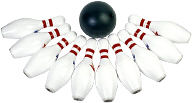 Crazy bowl is bowling with a twist. Whether you love or loathe traditional bowling, you'll get a kick out of trying this wacky list of bowling moves on your next ten frames. Be sure to invite all your friends to join in the fun and be prepared to share a memory charged with laughter and frivolity.


---
Basic Rules of Traditional Bowling:
A game of bowling consists of 10 frames. The goal is to knock down all ten pins on the first shot, earning a strike. If the bowler fails to knock down all ten pins on the first shot, they take a second shot. If the bowler knocks down all of the pins after this second shot, he or she earns a spare. In the 10th, and last frame, a bowler who gets a strike on his or her first shot gets to throw two additional balls. A bowler who gets a spare in the 10th frame gets to throw one additional ball.
If a bowler earns a strike on the first ball, it is scored as ten, plus the count the bowler achieves on the next two balls. For example, if a bowler earns a strike in the first three frames, the bowler will earn 10 pins for the first shot, plus ten more for each of the additional strikes, yielding a score of 30 for the first frame.
When a bowler gets a spare, he or she gets 10 pins, plus the score on the next ball. For example, if a bowler gets a spare in the first frame, and then knocks down 9 pins on the first ball of the second frame, he or she would receive ten pins for the spare, plus nine, yielding a first frame score of 19.


---
Crazy Bowl Instructions
Scoring for crazy bowl is similar to traditional bowling, except where noted. Each frame presents a different challenge. Use the list below or make up your own. You may want to bring a pair of dice, a pair of mittens, and a blindfold with you.


Frame 1 - Have someone stand in front on you, legs spread. Roll the ball through their legs.
Frame 2 - Bowl with eyes closed or blindfolded.
Frame 3 - Bowl wearing fingerless mittens (not gloves, in other words). Oven witts would really up the challenge.
Frame 4 - If you're a righty, bowl with your left hand. If your a lefty, bowl with your right hand.
Frame 5 - Sit on the floor and bowl by pushing the ball forward with your feet.
Frame 6 - Roll a pair of dice. If you get that score on your first roll, it counts as a strike.
Frame 7 - Bowl in slow motion.
Frame 8 - Get someone else in the bowling alley, who is not with your group, to bowl one frame for you.
Frame 9 - Bowl backwards, either between your legs or in whatever other way you can manage.
Frame 10 - Spin in circles five times and then bowl immediately.


---
More Crazy Bowling Ideas
Bowl on one foot.
Predict the score of your first roll. If you get it, it counts as a strike.
Lay on your stomach and bowl.
Sit on someone's knee and bowl.
Have two people roll the ball at one time.
Have each person make up a challenge before starting the game.



Girls Night Out Activities

Girls Night In Activities



Nov 25, 23 03:52 PM

Printable left right Christmas game based on the story of Scrooge from A Christmas Carol by Charles Dickens. Read the story and pass gifts left and right.

Nov 20, 23 05:55 PM

A crazy Christmas scavenger hunt involves finding unusual Christmas items that have been set up in the hunt area ahead of time. Will your guests spot that Rudolph has a green nose, etc.?

Nov 20, 23 04:58 PM

Over a dozen Christmas scavenger hunts to celebrate the holiday season. Tons of fun Christmas treasure hunt riddles, clues and printable lists.