Share Your Favorite 
Girls Night Out Hot Spots with Us!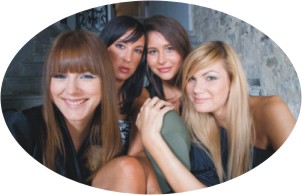 Do you and your friends have a favorite girls night out meeting spot... a place that tourists and out-of-towners may not know about? If you have a cozy cafe, a cool dance club, a fun pool hall or bowling alley, a quaint shopping district, an amazing dessert house, an elegant dining establishment, or any other great location where you like to get together and spend time with friends, please take a moment and share it with us.
We'll post the best submissions so that other girls can enjoy your favorite hot spots too. Who knows... maybe someone will submit a great location from your town that you've never heard of.
---
Please Note: When you send your ideas and/or photos you are granting diva-girl-parties-and-stuff.com the right to use and/or publish your ideas and/or on our web site and/or in ebook format.
If you have photos to include, please notify us in the form below and we will send you instructions on how to send those images.
Please be sure to double check that you typed in your email address correctly. We may need to contact you for clarification on your submission. We will not share your email adress with anyone.
---
Nov 23, 22 03:29 PM

12 days of Christmas legend game based on lyrics used as a secret code to share faith and avoid persecution. Match each gift with its symbolic Christian meaning

Sep 23, 22 04:50 PM

Printable Would You Rather Halloween Game with fun either or icebreaker questions to get your party off to a howling start.

Sep 08, 22 12:25 AM

Printable Halloween pass the gift game poem for 10 players or more. Wrap enough treats and gag prizes to give one per guest or play the game white elephant style.