Share Your Favorite 
Girls Night Out Hot Spots with Us!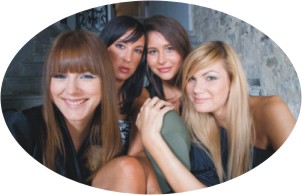 Do you and your friends have a favorite girls night out meeting spot... a place that tourists and out-of-towners may not know about? If you have a cozy cafe, a cool dance club, a fun pool hall or bowling alley, a quaint shopping district, an amazing dessert house, an elegant dining establishment, or any other great location where you like to get together and spend time with friends, please take a moment and share it with us.
We'll post the best submissions so that other girls can enjoy your favorite hot spots too. Who knows... maybe someone will submit a great location from your town that you've never heard of.
---
Please Note: When you send your ideas and/or photos you are granting diva-girl-parties-and-stuff.com the right to use and/or publish your ideas and/or on our web site and/or in ebook format.
If you have photos to include, please notify us in the form below and we will send you instructions on how to send those images.
Please be sure to double check that you typed in your email address correctly. We may need to contact you for clarification on your submission. We will not share your email adress with anyone.
---
Mar 06, 19 02:06 PM

Host your best St Patricks Day party ever with these cool party games and activities.Challenge friends to a round of green trivia, write funny limericks, or play a right left leprechaun game.

Feb 14, 19 01:44 PM

Match the fun fact to the candy in this Valentine fun candy trivia. How did 3 Musketeers get their name? What candy bar really satisfies? Answer key included.

Feb 14, 19 01:43 PM

Add this presidential trivia to an inauguration party, 4th of July event, trivia party, or pub night. The multiple choice questions also make for a fun quiz for teachers to use in the classroom.