Guess the Princess Printable Game
Guess the Princess is a game composed of 9 images of items associated with famous princesses from Disney films, fairy tales, and other creative and inspired writings.  Can you guess them all?
Whether you're planning a princess party or just want a unique printable trivia to use as an icebreaker, this game is the perfect fit.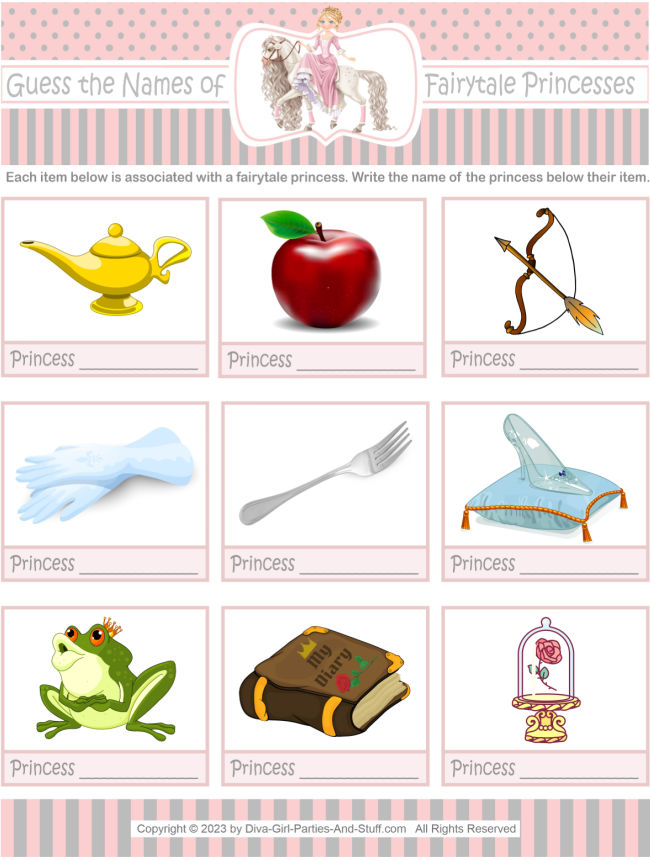 Free Printable Guess the Princess Game and Answer Sheet
Sample Guess the Princess Clue
An image of a pea is a clue for Princess Daria from the Princess and the Pea. Alternatively, a stack of mattresses would also work.
If you're not familiar with the story, a Prince was looking for a real princess to marry.
When a woman showed up at his door one rainy night claiming to be a real princess, the prince's mother secretly put her to the test.
His mother had the princess sleep upon a stack of 20 mattresses under which she had placed a single pea.
When the woman awoke in the morning and spoke of a dreadful night sleep due to feeling a pea beneath her, the prince knew she had been telling the truth as only a princess would have such tender skin as to feel a pea 20 mattresses beneath her.
Bedroom Scene from Princess and the Pea
Feature Films for Families released an animated musical of The Princess and the Pea in 2002, an adaptation of the popular 1835 fairy tale by Hans Christian Andersen.

Guess the Princess Game Clues and Answers
Printable download of the game with answers
1. A magic lamp represents Princess Ariel from the 1992 and 2019 Disney films, Aladdin, which were based on the Arabic folktale, Aladdin from the book One Thousand and One Nights.
2. An apple represents Snow White from the 1937 Disney film, Snow White and the Seven Dwarfs, based on the 1812 Brothers Grimm  fairytale, Snow White. A remake of Snow White is scheduled to be released in the United States on March 22, 2024 starring Rachel Zegler as Snow White and Gal Gadot as the Evil Queen.
3. A bow and arrow represent Merida from the 2012 Disney/Pixar film, Brave. Brave was not based on a fairy tale. It is an original story by Brenda Chapman, who took inspiration from her relationship with her own daughter to write it.
4. A pair of long blue gloves represent Princess Elsa from the 2013 Disney film, Frozen, which was loosely based on the 1844 fairy tale, The Snow Queen, by Hans Christian Andersen.
5. A fork (aka dinglehopper) represents Princess Ariel from the 1989 Disney film, The Little Mermaid, which was loosely based on the 1837 fairy tale, The Little Mermaid, by Hans Christian Andersen. A new live action version of the story is set to be released on May 26, 2023 starring Halle Berry as Ariel.
6. A glass slipper on a pillow represents Cinderella from the 1950 Disney film, Cinderella, based on the 1697 fairy tale by Charles Perrault. Cinderella has been reimagined and remade numerous times since 1950, including the 2015 version starring Lily James (Lily Chloe Ninette Thomson) as Cinderella.

7. A frog represents Princess Tiana from the 2009 Disney film, The Princess and the Frog, which is loosely based on the 1812 Brothers Grimm fairy tale, The Frog Prince, and the 2002 novel, The Frog Princess, by E. D. Baker.
8. A diary represents Princess Fiona from the 2001 Dreamworks film, Shrek, which was loosely based on William Steig's 1990 children's book, Shrek!  Princess Fiona appeared in 3 additional films, Shrek 2 (2004), Shrek the Third (2007), and Shrek Forever After (2010). A fifth installment of the Shrek franchise is apparently in the works, but no release date has been set.
9. A rose in a glass dome represents Princess Belle from Disney's 1991 film, Beauty and the Beast, based on the 1740 fairy tale of the same name by French novelist Gabrielle-Suzanne Barbot de Villeneuve. Walt Disney Pictures and Mandeville Films also released a live action version of the story in 2017 starring Emma Watson as Belle.


Want a printable copy of this game? Fill in the form below to get immediate access. The file also includes the answer page.

More Princess Party Games and Ideas
Jul 25, 23 02:35 PM

Fun and challenging baby animal name game. What baby animal names do these 15 image clues rhyme with? Challenge yourself and your party guests. Free printable game and answers.

Jun 27, 23 02:30 PM

Challenge friends and family with this July 4th songs trivia quiz based on patriotic lyrics. From traditional to modern, there's a song for every generation.

Apr 26, 23 04:28 PM

Guess the Princess from an image of something they are associated with like a chameleon for Rapunzel or a pea for Princess Daria. Printable game with answers.