Christmas Scavenger Hunts
Christmas Scavenger Hunts
Christmas Treasure Hunt Ideas and Gift Giving Games
Christmas scavenger hunts are a popular holiday activity, and can be customized to suit every age group.
Whether you are planning a large party or just want to add some fun to your family festivities, scavenger hunts are always a great success!


Christmas Gift Hunt
Preparing for Christmas takes weeks, or even months, and then it seems like the presents are opened in a flash. Why not add a fun scavenger hunt to your Christmas morning to make the festivities last just a little longer.
Hide everyone's gifts and then leave little clues to guide them on their quest to find their Christmas treasures. Clues don't have to be holiday related, but it would add to the fun to include some references to Christmas songs or favorite characters.


Christmas gift hunt Clue Examples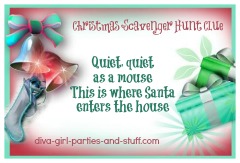 Christmas Scavenger Hunt 
Clue #1
Quiet, quiet as a mouse
This is where Santa
enters the house
Christmas Scavenger Hunt 
Clue #2
Your next clue will not be far
Be wise and follow
yonder star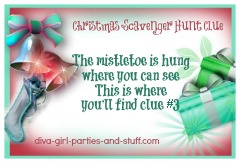 Christmas Scavenger Hunt 
Clue #3
The mistletoe is hung 
where you can see
This is where you'll find
clue number three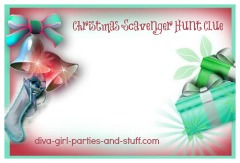 Christmas Scavenger Hunt 
Blank Clue Card
Your clue 
or riddle
Be creative!
Secret Santa Treasure Hunt
This is a fun game that can last a few days or a couple of weeks, depending on your crowd and situation. Secret Santa is a popular activity for the workplace, college dorms, or even families. And, you can add your own variations so that it can be customized to suit your needs and the age of your players.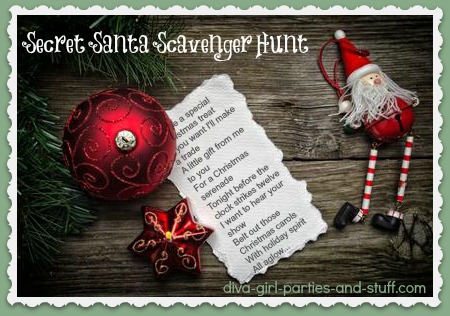 Each person will be a "secret santa" to a coworker, friend, or family member. Throughout the holiday season, your "santa" will send you on a series of scavenger hunts to find small gifts or additional clues to your final gift. Some people even like to include fun or crazy challenges.


SAMPLE SECRET SANTA SCAVENGER HUNT NOTE
I have a special Christmas treat
If you want, I'll make a trade
A little gift from me to you
For a Christmas serenade
Tonight before the clock strikes twelve
(or whatever time suits your needs)
I want to hear your show
Belt out those Christmas Carols
With holiday spirit all aglow
Once I've heard your Christmas songs
Your sweet treat I will hide
In the back right corner
Where the eggnog now resides
(can be changed to a different location
if you don't have a fridge)


Other challenges could include sitting on Santa's knee, baking cookies for everyone, or posing in a real-life nativity.
It is also fun to connect the clues of the scavenger hunt to the final gift if possible.For example, if your secret Santa gift was a coffee maker, you might use clues such as:
When you get near clue number one you may be hot
But this sweet pot is definitely not

(hide next clue or small gift in or under sugar pot)


Morning brings with it another clue (or, I think that another gift is due)
You'll find it nestled with this eye-opening brew

(hide next clue or small gift in can of coffee)


Hint (or gift) number three will not be a flop
You'll find it at your morning stop

(arrange to prepay for a coffee or leave a coffee on their desk, etc.)
Send your first Secret Santa clue online. Be creative!
Wild and Crazy Christmas Hunt
This is for the more adventurous (and brave) guests who don't mind acting a little outrageous. Send teams out with a list of crazy things to do or find, and make sure that they take pictures or video so everyone can enjoy the antics for years to come.
Some ideas could include, climbing a Christmas tree, getting a stranger to sing a Christmas carol with you in the middle of the shopping mall, or stting in Santa's sleigh.
You could also "plant" crazy items such as a rudolph wearing Santa boots, a giraffe in the nativity scene, or a half eaten candy cane.
The level of difficulty and craziness will depend on the age group and whether or not your hunt will be taking place at a venue or around town.


Food Bank Scavenger Hunt
Christmas is a time when food banks need to stock their shelves so less fortunate people can enjoy a festive meal during the holiday season. Instead of simply making a donation, why not have a little fun and invite your friends and neighbors to a food bank scavenger hunt.
Send teams on a race to see who can gather the most non-perishable goods in a set amount of time. Of course, food must be given willingly (not stolen) and robbing your own cupboards doesn't count.
Teams will have to ask shop owners, knock on neighborhood doors, or beg for financial donations from people they pass on the street.
This is a great way to have some fun while also giving back to the community.


Christmas Tree Hunt
Make arrangements with the owners of a local Christmas tree farm to set up a scavenger hunt on their property.
This can be arranged as an orienteering type race where teams must complete a course that leads to a decorated Christmas tree. Or, you could hide various little treats and treasures throughout the forest,and have people compete to see who can gather the most objects.
If you are doing this as a family or classroom, you may even want the hunt to finish at the Christmas tree that you will be taking home to decorate.


More Christmas Scavenger Hunts
Do You Have Ideas for a Fun and Original Christmas Scavenger Hunt?
Don't keep it to yourself... Share it!
Christmas Scavenger Hunts
Nov 25, 23 03:52 PM

Printable left right Christmas game based on the story of Scrooge from A Christmas Carol by Charles Dickens. Read the story and pass gifts left and right.

Nov 20, 23 05:55 PM

A crazy Christmas scavenger hunt involves finding unusual Christmas items that have been set up in the hunt area ahead of time. Will your guests spot that Rudolph has a green nose, etc.?

Nov 20, 23 04:58 PM

Over a dozen Christmas scavenger hunts to celebrate the holiday season. Tons of fun Christmas treasure hunt riddles, clues and printable lists.