My Favorite Christmas Chocolates Recipe
I love making special things in my kitchen during the holidays and this Christmas chocolates recipe is my absolute favorite.

Not only are the chocolates delicious and attractive, but they are so easy to make.
Every year I make several little homemade fabric covered boxes and put four of these chocolates in each to give to friends and acquaintances. They are eagerly anticipated.
Instructions on How to Make Beautiful Handmade Boxes for Wrapping these Christmas Chocolates

Try making some for yourself and then make some for your friends. 


Christmas Chocolates Recipe
Ingredients
1 package (20 ounces) maple cream-filled sandwich cookies
1 package (8 ounces) cream cheese, softened
15 ounces white chocolate (meltable chocolate wafers/candy)
12 ounces milk chocolate (meltable chocolate wafers/candy)
Food coloring (optional)

* Note: I use Merckens Chocolate wafers/candy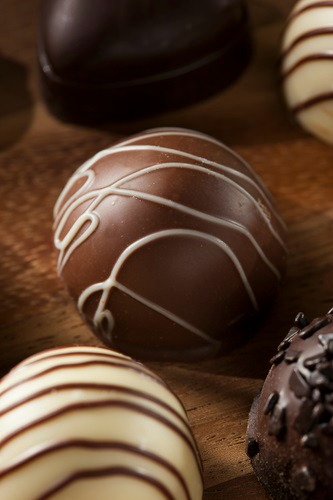 Easy Tasty Chocolates Recipe
Instructions
Put the cookies in a blender, cover and process until finely crushed.
Beat the cream cheese and crushed cookies in a small bowl until well blended.
Roll into 3/4 inch balls, cover and refrigerate for at least one hour.
Melt white chocolate in a sauce pan over low heat, stirring until smooth. (Note: I usually heat my chocolate in the microwave, following the same directions as noted for melting chocolate chips.)
Dip half the balls in the white chocolate till completely coated and put on wax paper to harden.
Next, heat the milk chocolate, dip the remaining balls till completely coated and put on wax paper to harden.
Drizzle the remaining milk chocolate over the white chocolate balls and the remaining white chocolate over the milk chocolate balls.
Optional: Mix some red or green food coloring in the remaining white chocolate and drizzle over any of the balls.
Makes about 6-7 dozen.


Aug 11, 21 11:35 AM

Back to Back challenges your observation skills and is a fun game to play at a shower or any other gathering. NEW anniversary version with video just added.

May 25, 21 12:03 PM

Over 100 free scavenger hunts, printable invitations, and fun treasure hunt lists and ideas for every event and occasion. Happy Hunting!

Feb 05, 21 02:31 PM

Host a Super Bowl party with great food, games and friends. Add our Super Bowl trivia questions and icebreakers, and get everyone's game predictions pre-party.