Christmas Chocolates Recipe
My Favorite Christmas Chocolates Recipe
I love making special things in my kitchen during the holidays and this Christmas chocolates recipe is my absolute favorite.
Not only are the chocolates delicious and attractive, but they are so easy to make.
Every year I make several little homemade fabric covered boxes and put four of these chocolates in each to give to friends and acquaintances. They are eagerly anticipated.
Boxed Up Christmas Chocolates
Instructions on How to Make Beautiful Handmade Boxes for Wrapping these Christmas Chocolates

Try making some for yourself and then make some for your friends. 


Christmas Chocolates Recipe
Ingredients
1 package (20 ounces) maple cream-filled sandwich cookies
1 package (8 ounces) cream cheese, softened
15 ounces white chocolate (meltable chocolate wafers/candy)
12 ounces milk chocolate (meltable chocolate wafers/candy)
Food coloring (optional)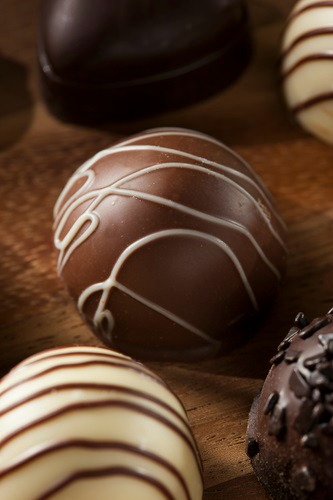 Easy Tasty Chocolates Recipe

* Note: I use Merckens Chocolate wafers/candy

* Optional: Fudge, lemon, and coconut filled sandwich cookies are other delicious options for this recipe.


Instructions
Put the cookies in a blender, cover and process until finely crushed.


Beat the cream cheese and crushed cookies in a small bowl until well blended.


Roll into 3/4 inch balls, cover and refrigerate for at least one hour.


Melt white chocolate in a sauce pan over low heat, stirring until smooth. (Note: I usually heat my chocolate in the microwave, following the same directions as noted for melting chocolate chips.)


Dip half the balls in the white chocolate till completely coated and put on wax paper to harden.


Next, heat the milk chocolate, dip the remaining balls till completely coated and put on wax paper to harden.


Drizzle the remaining milk chocolate over the white chocolate balls and the remaining white chocolate over the milk chocolate balls.


Optional: Mix some red or green food coloring in the remaining white chocolate and drizzle over any of the balls.


Makes about 6-7 dozen.


Christmas Chocolates Recipe Supplies
As an Amazon Associate I earn commissions from qualifying purchases. 
If you click on a product and buy, I earn a small commission at no cost to you.
Nov 25, 23 03:52 PM

Printable left right Christmas game based on the story of Scrooge from A Christmas Carol by Charles Dickens. Read the story and pass gifts left and right.

Nov 20, 23 05:55 PM

A crazy Christmas scavenger hunt involves finding unusual Christmas items that have been set up in the hunt area ahead of time. Will your guests spot that Rudolph has a green nose, etc.?

Nov 20, 23 04:58 PM

Over a dozen Christmas scavenger hunts to celebrate the holiday season. Tons of fun Christmas treasure hunt riddles, clues and printable lists.