Christmas Clay Creations Game
Holiday Pictionary | Christmas Carol Game with a Twist
Remember the fun you used to have as a kid, sculpting objects out of playdough? You can experience that fun again by playing Christmas Clay Creations.

Clay Figures Made As A Twist On Christmas Pictionary
Print and cut out the Christmas carols and songs below or come up with your own.
Fold each song/carol individually and put in a bowl.
Purchase or borrow several tubs of playdough.
Divide your guests into two teams. Have one team member come up and pull a song/carol out of the bowl and start sculpting hints with the playdough for her team to guess.
If after a set time her team can't guess, allow the other team to guess. Score points accordingly.
Go from one team to the next till all of the carols have been used.


---
POPULAR CHRISTMAS CAROLS AND SONGS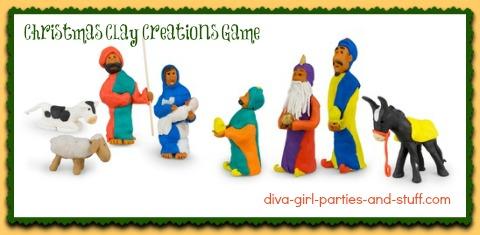 AWAY IN A MANGER
O LITTLE TOWN OF BETHLEHEM
JINGLE BELLS
WE THREE KINGS OF ORIENT ARE
FROSTY THE SNOWMAN
O CHRISTMAS TREE
UP ON THE HOUSETOP
LITTLE DRUMMER BOY
JINGLE BELL ROCK
ALL I WANT FOR CHRISTMAS IS MY TWO FRONT TEETH
GRANDMA GOT RUN OVER BY A REINDEER
ROCKING AROUND THE CHRISTMAS TREE
I SAW MOMMY KISSING SANTA CLAUS
BIRTHDAY OF A KING
BRING A TORCH, JEANETTE, ISABELLA
CHESTNUTS ROASTING ON AN OPEN FIRE
RUDOLPH, THE RED-NOSED REINDEER
THE CHRISTMAS SHOES
GO TELL IT ON THE MOUNTAIN
GROWN UP CHRISTMAS LIST
HOLLY AND THE IVY
I SAW THREE SHIPS
LET IT SNOW
SLIVER BELLS
OLD TOY TRAINS
THE TWELVE DAYS OF CHRISTMAS
WHAT CHILD IS THIS?
DECK THE HALLS
HERE COMES SANTA CLAUS
SLEIGH RIDE
---
Note:
This list could also be used for Pictionary or charades.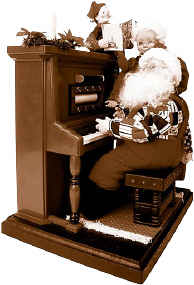 Name That Carol Party Game


More Christmas Song Games
Nov 25, 23 03:52 PM

Printable left right Christmas game based on the story of Scrooge from A Christmas Carol by Charles Dickens. Read the story and pass gifts left and right.

Nov 20, 23 05:55 PM

A crazy Christmas scavenger hunt involves finding unusual Christmas items that have been set up in the hunt area ahead of time. Will your guests spot that Rudolph has a green nose, etc.?

Nov 20, 23 04:58 PM

Over a dozen Christmas scavenger hunts to celebrate the holiday season. Tons of fun Christmas treasure hunt riddles, clues and printable lists.