Christmas Clay Creations Game
Holiday Pictionary | Christmas Carol Game with a Twist
Remember the fun you used to have as a kid, sculpting objects out of playdough? You can experience that fun again by playing Christmas Clay Creations.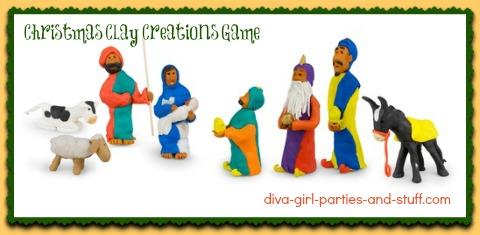 Print and cut out the Christmas carols and songs below or come up with your own.
Fold each song/carol individually and put in a bowl.
Purchase or borrow several tubs of playdough.
Divide your guests into two teams. Have one team member come up and pull a song/carol out of the bowl and start sculpting hints with the playdough for her team to guess.
If after a set time her team can't guess, allow the other team to guess. Score points accordingly.
Go from one team to the next till all of the carols have been used.


---
POPULAR CHRISTMAS CAROLS AND SONGS
AWAY IN A MANGER
O LITTLE TOWN OF BETHLEHEM
JINGLE BELLS
WE THREE KINGS OF ORIENT ARE
FROSTY THE SNOWMAN
O CHRISTMAS TREE
UP ON THE HOUSETOP
LITTLE DRUMMER BOY
JINGLE BELL ROCK
ALL I WANT FOR CHRISTMAS IS MY TWO FRONT TEETH
GRANDMA GOT RUN OVER BY A REINDEER
ROCKING AROUND THE CHRISTMAS TREE
I SAW MOMMY KISSING SANTA CLAUS
BIRTHDAY OF A KING
BRING A TORCH, JEANETTE, ISABELLA
CHESTNUTS ROASTING ON AN OPEN FIRE
RUDOLPH, THE RED-NOSED REINDEER
THE CHRISTMAS SHOES
GO TELL IT ON THE MOUNTAIN
GROWN UP CHRISTMAS LIST
HOLLY AND THE IVY
I SAW THREE SHIPS
LET IT SNOW
SLIVER BELLS
OLD TOY TRAINS
THE TWELVE DAYS OF CHRISTMAS
WHAT CHILD IS THIS?
DECK THE HALLS
HERE COMES SANTA CLAUS
SLEIGH RIDE
---
Note:
This list could also be used for Pictionary or charades.
Name That Carol Party Game


More Christmas Song Games
Oct 18, 19 06:02 PM

Play this ghost story mad lib game at Halloween parties, camp, home, and school. Create a funny scary story that will make you scream with laughter.

Oct 16, 19 02:57 PM

Plan to play Family Feud game Halloween edition at your next Halloween party using our survey Q&As. Check out the fun video to spark ideas for making your game spooktacular. Time to play!

Sep 03, 19 05:55 PM

10 printable princess tea party bingo cards with draw cards. Print in color or black and white. Use candy or pencils to mark squares as they are called.