Name That Carol
Christmas Song Game with a Challenging Twist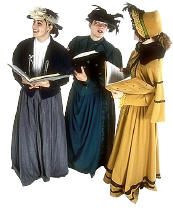 Name that Carol will challenge your ability to remember popular Christmas carols with only a three or four word phrase from the songs.
Have you ever found yourself trying to remember the title of a familiar song? It's on the tip of your tongue. You know a few words ... but ... you just can't remember the title. This game is based on that frustration.
At your Christmas party, divide your guests into teams or let them play individually.

Read each phrase aloud and have your guests jump to their feet if they know the answer. (You may want to make a rule that the same person can't answer twice in a row unless no one else knows the answer.)


If playing in teams score points for correct answers. You may even want to subtract points for incorrect answers or no answer. (Often people jump to their feet without knowing the answer and subtracting a point may discourage this.)


If playing individually you may want to give each correct answer a chocolate bell or some other Christmas candy.


You could also print the clues and give a time limit for teams and individuals to fill in their answers, but I find the more interactive game play better in most cases.
Note: Avoid singing the words unless no one is able to come up with an answer.
NAME THAT CAROL CLUE LIST
1. down where He lay

2. silent stars go by

3. in Heavenly peace

4. ride and sing

5. field and fountain

6. and sweet the words

7. dancing in the night

8. a cold winter's night

9. made of snow

10. pulling on the reins

11. how are thy leaves

12. gather near to us

13. I used to know

14. snow is glistening

15. no place to go

16. King of angels

17. triumph of the skies

18. you would even say

19. the mountains in reply

20. deep and crisp

21. prepare Him room

22. our finest gifts

23. to you and your kin

24. dressed up like Eskimos

25. only in my dreams

26. bushels of fun

27. my true love

28. the weary world rejoices

29. what a laugh

30. smile after smile
Name That Christmas Song Game
NEW Printable Name That Christmas Song Game by Party Fun Printables.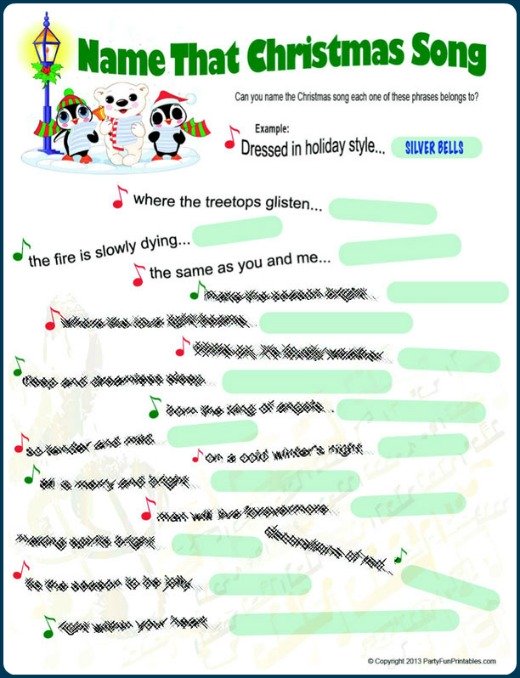 ---
Printable Christmas Carol Games:
---
Name that Carol Answers:
1. Away in a Manger, 2. O Little Town of Bethlehem, 3. Silent Night, 4. Jingle Bells, 5. We Three Kings of Orient Are, 6. I Heard the Bells on Christmas Day, 7. Do You Hear What I Hear?, 8. The First Noel, 9. Frosty the Snowman, 10. Here Comes Santa Claus, 11. O Christmas Tree, 12. Have Yourself a Merry Little Christmas, 13. White Christmas, 14. Winter Wonderland, 15. Let it Snow, 16. O Come All Ye Faithful, 17. Hark! The Herald Angels Sing, 18. Rudolph, the Red-Nosed Reindeer, 19. Angels We Have Heard on High, 20. Good King Wencelas, 21. Joy to the World, 22. Little Drummer Boy, 23. We Wish You a Merry Christmas, 24. The Christmas Song (Chestnuts Roasting on an Open Fire ...), 25. I'll Be Home for Christmas, 26. Jingle Bell Rock, 27. The Twelve Days of Christmas, 28. O Holy Night, 29. I Saw Mommy Kissing Santa Claus, 30. Silver Bells
A Different Name that Carol Game

Holiday Party Game

Christmas Clay Creations Party Game
Nov 25, 23 03:52 PM

Printable left right Christmas game based on the story of Scrooge from A Christmas Carol by Charles Dickens. Read the story and pass gifts left and right.

Nov 20, 23 05:55 PM

A crazy Christmas scavenger hunt involves finding unusual Christmas items that have been set up in the hunt area ahead of time. Will your guests spot that Rudolph has a green nose, etc.?

Nov 20, 23 04:58 PM

Over a dozen Christmas scavenger hunts to celebrate the holiday season. Tons of fun Christmas treasure hunt riddles, clues and printable lists.