July 4th Songs Trivia
An American Patriotic Song Lyrics Quiz
This July 4th songs trivia quiz is a fun icebreaker game for a July 4th party or any American patriotic event.
Read each lyric portion given below.
Ask your guests to name the titles of the 20 American patriotic songs noted on our list or create a list of your own to challenge them with.
You can also add an extra element of difficulty or the potential for bonus points by asking for the name of the author of each song.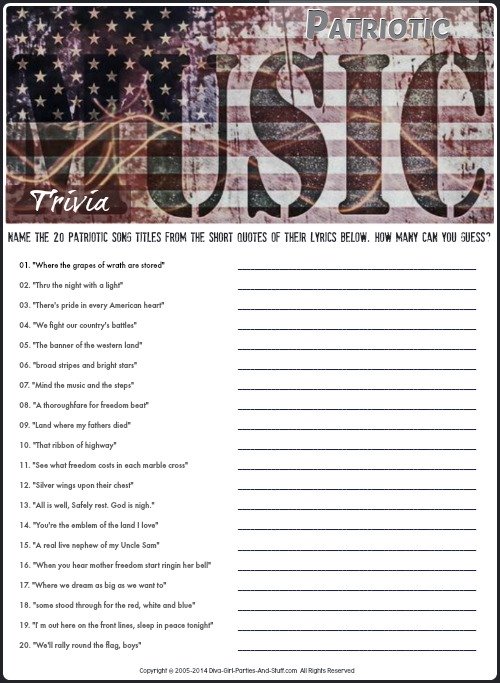 You can find the song titles and song authors at the bottom of this page.
My Favorite American Patriotic Song
HAPPY 4TH OF JULY!  HAPPY MEMORIAL DAY! 
GOD BLESS AMERICA!


Guess the July 4th Songs Titles from These Lyrics
01. "Where the grapes of wrath are stored"

02."Thru the night with a light"

03."There's pride in every American heart"

04."We fight our country's battles"

05."The banner of the western land"

06."broad stripes and bright stars"

07."Mind the music and the steps"

08."A thoroughfare for freedom beat"

09."Land where my fathers died"

10."That ribbon of highway"

11."See what freedom costs in each marble cross"

12."Silver wings upon their chest"

13."All is well, Safely rest. God is nigh."

14."You're the emblem of the land I love"

15."A real live nephew of my Uncle Sam"

16."When you hear mother freedom start ringin her bell"

17."Where we dream as big as we want to"

18."some stood through for the red, white and blue"

19."I'm out here on the front lines, sleep in peace tonight"

20."We'll rally round the flag, boys"

Click Here Trivia Answers


Printable Patriotic Trivia and Games

Printable 4th of July Game Collection
4th of July Party Supplies
American Patriotic Song Trivia Answers
01. Battle Hymn of the Republic by Julia Ward Howe
02. God Bless America by Irving Berlin
03. God Bless the USA by Lee Greenwood
04. The Marine's Hymn (From the Halls of Montezuma) - Author Unknown
05. Stars and Stripes Forever by John Philip Sousa
06. The Star Spangled Banner by Francis Scott Key
07. Yankee Doodle by Richard Shuckburgh
08. America, The Beautiful by Katharine Lee Bates
09. America or My Country, 'Tis of Thee by Samuel F. Smith
10. This Land Is Your Land by Woody Guthrie
11. What the Flag Means by Mark Heffron
12. The Ballad of the Green Beret by Staff Sergeant Barry Sadler and Robin Moore
13. Taps by Daniel Adams Butterfield
14. You're A Grand 'Ole Flag by George M. Cohan
15. I'm a Yankee Doodle Dandy by George M. Cohan
16. Courtesy of the Red, White & Blue by Toby Keith
17. Only in America by Brooks and Dunn
18. Some Gave All by Billy Ray Cyrus
19. American Soldier by Toby Keith
20. Battle Cry of Freedom by George F. Root 


Feb 12, 23 04:19 PM

Add an extra challenge to game day with this Super bowl picture puzzle rebus. Guess the names of 10 players from the Kansas City Chiefs and Philadelphia Eagles.

Feb 12, 23 04:16 PM

Host a Super Bowl party with great food, games and friends. Add our Super Bowl trivia questions and icebreakers, and get everyone's game predictions pre-party.

Nov 23, 22 03:29 PM

12 days of Christmas legend game based on lyrics used as a secret code to share faith and avoid persecution. Match each gift with its symbolic Christian meaning