Presidential Inauguration Party Ideas
Not everyone can make it to a presidential inauguration event, but anyone can participate by hosting an inaugural party at home. Hey... over half of the entertainment is provided via TV! It doesn't get easier than that.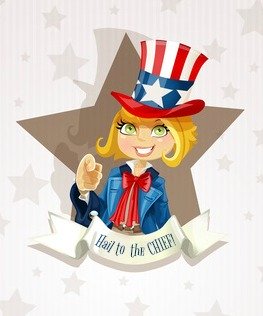 Even if you've been rocked by the current economic conditions, you don't have to break the bank to host an historical presidential inauguration party.

If funds are tight, host a potluck supper or forget dinner and host a potluck dessert, snack, or finger food (hors d'oeuvre) buffet.
Need some recipe inspiration? Click here for some recipe ideas based on the likes of various past presidents.  
Deck your entrance in red, white, and blue and roll out a red carpet or length of red fabric if you have it. Have a family member escort guests from their cars to add a little pomp and circumstance. Invite your guests to come dressed in their best or in the colors of the American flag.

For invitations, create your own presidential inauguration tickets. Check out this 1929 inauguration ticket for ideas on how to make your own. 


 INAUGURATION PARTY GAMES AND ACTIVITIES 
Presidential Inauguration Time Capsule - Have guests write down their predictions for the next 4 years... the changes they anticipate seeing in the USA... where they think the country will be in 4 years, etc. Collect the predictions and seal them in a tin can to be revisited and read at an encore gathering in 4 years. It will be interesting to see whose predictions were most accurate.

Trump Trivia - Challenge your guests to a little trivia about their newest president. (eg. What was the president's ancestral family name before it evolved to Trump?)

Presidential Trivia - Find the patriotic historians among you with a full out trivia on all of the American presidents. (eg. What President was sworn in at his residence in New York City?) 30 Question Presidential Trivia
Republican or Democrat? - Read various facts, scenarios, etc. to your guests and have them guess which party they are associated with. (eg. President whose dog was named Checkers... Republican or Democrat?) Democrat or Republican Game List and Cards

Watch Inauguration Coverage on TV - When it's over take time to discuss your thoughts on the events and your visions for the country's future. That shouldn't take much prodding. Discussions will more then likely naturally flow after watching the inauguration.

Photos with the President - If you can get your hands on a full size Donald Trump stand-up cutout (standee) or even a Trump mask, have guests "pose with the President" for a truly memorable souvenir you can mail later as a thank you for attending your party.
Presidential Oath Scramble - Divide your guests into teams and write the presidential oath of office one word at a time on index cards or squares of paper (one set per team). Be sure to mix up each team's words. On your go have teams race to get the words in the correct order.
~ Presidential Oath of Office ~

"I do solemnly swear that I will faithfully execute 
the office of President of the United States, 
and will to the best of my ability, preserve, protect 
and defend the Constitution of the United States."

 2017 TRUMP PRESIDENTIAL INAUGURATION PARTY
Whether you're Republican, Democrat, or none of the above, the election of the 45th POTUS has been nothing short of epic and agonizing. There has never been an election quite like this one.
From the unexpected popularity and surge of Sanders on the one side to the ultimate election of Trump on the other, one thing stood out above the often painful gibes and rhetoric that flew from every side... THE AMERICAN PEOPLE FOUND THEIR VOICE! The silent majority, was silent no more. 
No matter what the future holds, it is clear that the American people are ready to hold their leaders accountable from the highest levels  of government right down to their local representatives... and that's a good thing!
It is my hope that all Americans will allow themselves to heal from the hurts of the past year and work together to recapture the spirit of a country unified by care for each other and the world.
The people have spoken. God bless America! God guide and protect President Trump!
If you are a Trump fan, celebrate the inauguration full out with any of the ideas mentioned above. If you aren't, celebrate that the election process is over and resolve to give the next President a chance to prove himself.  Who knows? You might just be pleasantly surprised!
Campaigning for the next election begins in less than 3 years...  :)


 2009 OBAMA PRESIDENTIAL INAUGURATION PARTY
An historical presidential inauguration took place on January 20, 2009.
Contribute to the memories of this event by hosting an Obama inauguration party.
I am a conservative Canadian and yet the significance of this event is so momentous, it is worthy of celebration by all humankind.
I almost get emotional at the realization that the first African American will soon be sworn in to the highest office in the USA. This is HISTORICAL! Can the swearing in of a female president be far behind?
The United States of America has just expanded the dreams of every child, every race, and every gender. Let's CELEBRATE everything this means.
We don't have to agree on every principle, but we CAN recognize when boundaries have been broken and new heights have been achieved in our world.
Apparently a few of Obama's favorite foods are chili, pizza, and Mexican dishes. Serving up the new President's favorites would also make for a fun, low cost presidential inauguration party menu. 
Compile some Obama trivia to challenge your guests with. (eg. How many times was Barak Obama featured on the cover of Time magazine in 2008?)

Jul 25, 23 02:35 PM

Fun and challenging baby animal name game. What baby animal names do these 15 image clues rhyme with? Challenge yourself and your party guests. Free printable game and answers.

Jun 27, 23 02:30 PM

Challenge friends and family with this July 4th songs trivia quiz based on patriotic lyrics. From traditional to modern, there's a song for every generation.

Apr 26, 23 04:28 PM

Guess the Princess from an image of something they are associated with like a chameleon for Rapunzel or a pea for Princess Daria. Printable game with answers.