54th Birthday Party
My birthday is December 6. I will be 54 years old. I never had a baby shower with my three kids. What I want is a party for my female family members and friends. I don't know what to call this party. At first I wanted a diva party, but I don't know now. I need a theme and anything you can help me with. It will be on December 15th and later on that night we will have a party for both sexes.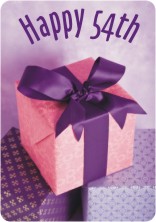 54th Birthday Party Response:
Congratulations!!! I'd love to help you come up with a theme and ideas for your party. First of all, I'd like to find out a little more about you. Since you originally wanted a diva party, should I assume you are a girly girl? If you could give me a sense of your favorite things by using the comment box below it would help me determine a theme that would work for you. Also, how many do you intend to invite to your party?
Wendy