Create Your Perfect Party at
Diva Girl Parties and Stuff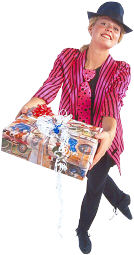 Diva Girl Parties and Stuff was created with YOU in mind. If you're a social diva girl and proud of it, then raise a pinky, grab a glass of pink lemonade and a notebook and let's start planning your next party.
I love parties, don't you? ... Everything from the invitations to the favors. I like to create new and original ideas for my parties and I hope you enjoy using them for yours. Better yet, I hope they inspire you to come up with some great ideas of your own.
Have a party question? Visit Diva Girl Parties and Stuff Message Board.
While you're here, take a look around. There's lots of fun activities and party games, scavenger hunts, and other stuff for girls of every age. Also, be sure to sign up for Girl Stuff and get your free Beauty Tips e-book. 


Have Fun and Enjoy Being a Girl! 


---
Need a recipe for pink lemonade? Visit www.allrecipes.com

Type pink lemonade in the Find Recipes Fast Search Box. Then, click GO and you'll be on your way to enjoying a refreshing glass of pink lemonade. 

P.S. There's even a recipe for Pink Lemonade Pie. It's very easy to make and the perfect dessert for fabulous summer parties.

---
Popular Party Pages
---
Fun Party Ideas

Our Girl Stuff Party Blog will keep you up-to-date with our newest party ideas, games, and fun activities for girls of every age.
Over 100 free scavenger hunts, printable invitations, and fun treasure hunt lists and ideas for every event and occasion. Happy Hunting!
Create your perfect party with our fun party ideas. Our selection of creative party themes offers ideas for everything from invitations to decorations, favors to food. Enjoy planning!
There are so many great party themes. So what was the best theme party you ever attended and what made it stand out? Take a moment and share your favorite with us.
An adult slumber party is the ultimate girls night for women. Slumber parties don't have to be a distant memory. Gather the girls at a home or hotel and enjoy a fun, crazy, memory-making evening.
Party games to add fun, excitement and lively interaction to your upcoming social event
Party trivia games with questions and answers for quiz parties and pub nights, holiday parties and more. Several free printable trivia games are available for immediate download.
Enjoy this fun collection of group involving bridal shower games. Includes bridal bingo, bridal mad libs, wedding trivia, panty poem, candy game, newlywed game, bridal feud, scavenger hunts and more.
Baby shower games and activities for celebrating the new arrival. Games include baby mad libs, baby trivia and many more fun interactive shower games and icebreakers.
Fun activities and unique ideas for a girls night out. Dress up and go out on the town or dress down and compete in a girls road trip scavenger hunt. Only one rule... Have Fun!
Fun activities and unique ideas for a girls night in. Indulge in chocolate, test beauty products, create and revisit memories, or just kick up your feet and enjoy some laughter and conversation.
Need a reason to party? Our party calendar will give you 50 excuses and more to celebrate. These fun official and unofficial holidays will keep your social calendar hopping for the entire year.
Party ideas and activities for holiday parties, including Christmas, Halloween, Valentine's Day, Mother's Day and Easter.
Host your best St Patricks Day party ever with these cool party games and activities.Challenge friends to a round of green trivia, write funny limericks, or play a right left leprechaun game.
Fun group involving Christmas party games for holiday get-togethers & parties. Plan everything from a Christmas scavenger hunt to a Christmas Family Feud competition.
Host a board game night and create a memorable, affordable party your friends will want to revisit again and again.
A variety of fun ideas for junior diva parties. Party themes, games, and activities for young girls, including dressup, craft, and princess parties.
Looking for help with an upcoming party? Ask your questions here at the Party Help Line and we'll answer them asap.
A step by step guide for planning girl parties, including lists and calendars.
Fun stuff to pass the time, including information, games, quizzes, tips and jokes for girls.
A fun and informative e-zine dedicated to girl stuff.
Diva Girl Party Shop offers party items online to help you create memorable events and enhance your themes. Browse our unique selection of novelties, accessories, gifts and favors.
Mad Libs are a fun word substitution party game. Try one at your next party.
Invite your friends to a home spa party they will always remember. Host a relaxing, luxurious evening for the girls for a budget friendly pampering experience.
My internet treasure discovery has given me an outlet for my talents and an on-the-side business all in one.
Fill in the blanks of this bridal story game with common household items and product names. Make it extra special by giving each of the items to the bride as gifts as you read the story.
Plan an unforgettable girls night and host a wine and cheese party. Great friends and conversation mixed with a delicious variety of cheese and wine equals an evening you'll want to repeat often.
Guess the titles of these romantic movies from their synonymous alternate titles. A fun and challenging game for a Valentine Day party, bridal shower, or cozy evening conversing with your sweetheart.
Host an Oscar party and celebrate the winners with these dramatic Oscar party ideas. Make your guests the stars of your party. Serve them in style and present them with some unique awards.
Ask your party, bridal shower, baby shower, and scavenger hunt questions in our party forum.
Fun and romantic Valentine themes and ideas for planning church Valentine parties and banquets.
A fun collection of valentine party games and icebreakers for couples, friends or mixed groups. Play a round of the newlywed game, challenge your guests to some Valentine trivia and just have FUN!
Over a dozen Christmas scavenger hunts to celebrate the holiday season. Tons of fun Christmas treasure hunt riddles, clues and printable lists.
---
Join in on Party Chats at Diva Girl Parties and Stuff Facebook.