11th Birthday Party Hollywood Bash
by tt
(England)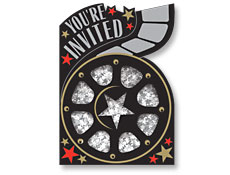 Hollywood Bash Invitations
For my daughter's 11th birthday party we had...
a red carpet leading up to the front door

sticks on either side with black and gold balloons

a big cardboard cutout of photographers
The door was decorated with stars and cameras.
Inside we had a large mirror, a rack full of clothes, and a table full of props such as glasses, wigs, feather boas, and gloves, etc.
Hollywood Bash Activities and Game Ideas
Advertising Game:
Our first game was to get into teams of 3 and advertise the way celebs advertise things such as a lipstick, shoes, or a hairbrush. We were given 15 minutes each to produce a 2 minute advertisement.
Fashion Designer Game:
Next game we had to make a premier dress out of ribbon, string, paper, toilet roll, etc. 2 teams and one person had to model the dress.
Talent Show Game:
For our third game we all wrote silly talents down, such as best jumper, worst dancer, etc. and we each got a turn to pick a talent from hat and act it out.
Name That Tune Game:
Our fourth game was to get into teams and each hum a tune from a movie and guess which movie it was from.
Photo Shoot:
We also had nail studio, hair studio, and tattoo studio with a cutout of hollywood stars so we could take pics with them. I also made the hollywood sign and hung it above our 48 inch TV.
We ordered pizza for dinner and had an ice-cream bar with toppings such as malteasers, fudge, marshmallows, etc. to put on ice-cream.