13 Going On 30
by Yasmine
(Leighton Buzzard )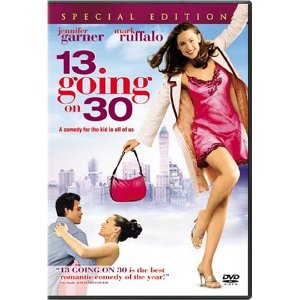 13 Going on 30 DVD
This movie is GREAT! It's all about this 13 year old, who isn't popular. Then, her best friend Max (I think that's his name), gives her a doll house for her birthday, and sprinkles it with wishing dust.
She puts the dollhouse in a long cupboard on the top shelf, and invites all the older, popular people to come.
They think the party is 'lame' so they invite the fittest boy in school, and a nasty girl named Kesly says, "let's play 7 minutes in heaven."
They blindfold her and put her in the cupboard and she thinks the fit boy will come, but they all leave :(
Then Max, comes in to help her up and she gets really angry and bangs the shelf.
The wishing dust comes down, as she is saying, "I wish I was 30, flirty and flexible." She says this and becomes 30.
I am not going to tell you anymore. I just really recommend this chick flick DVD. xxx