2 Truths and a Lie
by M from CT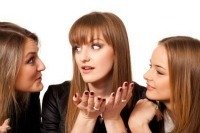 Truth or Lie?
2 Truths and a Lie is a great group bridal shower game.

To play, you make up three statements about the bride/groom, etc., but only 2 of them are true. Guests then try to guess the lie.

It's always fun when all three seem a bit odd, but possible because it gets people guessing and laughing!


Example:


1 - Jane and Tim went to a movie on their first date.

2 - Tim has never taken Jane to the movies.

3 - Jane was once in a movie.
- the lie is that they went to a movie on their first date.
(Tim and Jane can never agree on a movie they both like and Jane had a walk on part in a movie once).
Join in and write your own page! It's easy to do. How? Simply click here to return to Bridal Shower Games.
Nov 23, 22 03:29 PM

12 days of Christmas legend game based on lyrics used as a secret code to share faith and avoid persecution. Match each gift with its symbolic Christian meaning

Sep 23, 22 04:50 PM

Printable Would You Rather Halloween Game with fun either or icebreaker questions to get your party off to a howling start.

Sep 08, 22 12:25 AM

Printable Halloween pass the gift game poem for 10 players or more. Wrap enough treats and gag prizes to give one per guest or play the game white elephant style.