60s Pop Star Party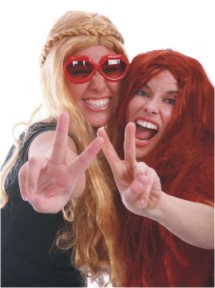 For our 60s pop star party each guest dressed up as a sixtys pop star (that looked most like them). Sometime during the party each had to sing (or lip sync) one of that pop star's songs. They could sing it funny.

We had 60s decorations and everyone wore those big sunglasses because when people thought of sixtys they thought of big sunnys.

Peace!

Join in and write your own page! It's easy to do. How? Simply click here to return to Party Themes.
Mar 06, 19 02:06 PM

Host your best St Patricks Day party ever with these cool party games and activities.Challenge friends to a round of green trivia, write funny limericks, or play a right left leprechaun game.

Feb 14, 19 01:44 PM

Match the fun fact to the candy in this Valentine fun candy trivia. How did 3 Musketeers get their name? What candy bar really satisfies? Answer key included.

Feb 14, 19 01:43 PM

Add this presidential trivia to an inauguration party, 4th of July event, trivia party, or pub night. The multiple choice questions also make for a fun quiz for teachers to use in the classroom.