80s Party
by Kimberly Brewer
(White Pigeon, MI)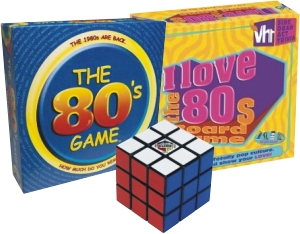 80s Party Games
We had an
80s party
last March that was a lot of fun.
For the
decorations,
I printed out all sorts of 80's images from Google of singers, bands, movies, cartoon characters, sports stars, toys, etc.. I posted them all over our house and I also got a bunch of
80's records
and hung them from the ceiling. I pulled out all of my old 80's toys and trinkets such as my
Rubik's Cube
, Smurfs, Alvin and the Chipmunks, Simon Says, Atari, floppy disks, etc. and used these as decorations.
In addition, I made some posters where I posed questions to our guests as to what their favorite song, movie, band, and memory was from the 80's. They had to write their answer on the poster board. Of course, we had
80s music
going as well.
For the
food,
I made and decorated
a record cake that said "You spin Me Right Round Baby..."
on it. We had our guests bring their
favorite 80's food
such as
Pop Rocks Candy
, Doritos, Pudding Pops, etc... We also had
80's drinks
such as Fresca and Kool Aid. I was able to find neon cups, plates, napkins, and silverware, and tablecloth to go along with the theme.
All of our guests arrived at our
80s party
dressed in their favorite 80's clothes. I wound up finding an ugly 80's puffy sleeved prom dress at a second-hand store and my husband found an appropriate Ghostbusters t-shirt at Walmart and he also rolled up his jeans and found his old jean jacket with all the pins all over it. Other guests had rolled up jeans, huge hair, jelly bracelets, jelly shoes, neon colored shirts, etc...
For fun, we played several games. One of the games we played was a "Guess the 80's t.v. show theme song". We played a theme song from an 80's t.v. show and people had to write down what show they remembered it from. Also, one of our guests brought the
100,000 Pyramid DVD Game
and so we played that as well. In addition, another guest brought the
Sing Star 80s DVD game
in which you sing 80's songs into a microphone and you're judged on how well you sing the songs. It was absolutely hilarious! We also had the
80's Trivial Pursuit game
, but we didn't have time for it.
Overall, our guests had a great time and I was singing 80's tunes for the rest of the week!