Amazing 14th Birthday Limo Party
by Kassandra
(New York)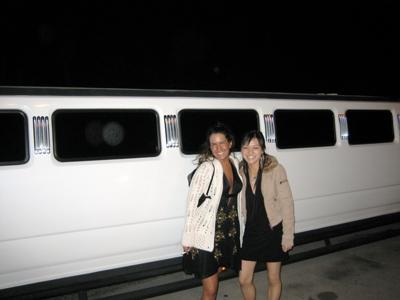 At 3:00 pm on Friday, me and my six best friends and three of my hot guy friends were picked up after school in a neon blue jacuzzi stretch limo. It was really cool. The limo could seat 24 people, (but there were only 10 of us) and it had zebra seats.

My parents didn't go in the car because it was my 'uncle' who ran the business and he chauffered us. We were still in our school uniforms but we didn't really care.

Since the screen between us and my uncle was soundproof, he couldn't hear or see what we did, so we played truth or dare and spin the bottle. It was really, really fun.

We even had the birthday cake in the limo. It was really fun.

Once we arrived at Universal Studios (where we were headed), he dropped us off. My parents had already booked the admissions. We went on rides and had dinner and did all sorts of fun stuff.

At one point we changed into our bathing suits and ran around the 'splash zone' at the water type show.

At 9 oclock we had to head back. We went in the jacuzzi in the limo and sat on towels in the car.
I opended presents then and got a Tiffany ring from a guy! From my parents I got a Chanel bag and a MacBook.

My friends all got Juicy Couture friendship bracelets and we all went out for charms for them.

We dropped the boys off at a local Westchester Coffee Shop where their parents met them.

My girlfriends and I spent the night at the Four Seasons. We ran around the lobby there and had so much fun. We also saw a movie and went shopping. We had an enitre different room from my mom, which was awesome. We gossiped, prank called, played truth or dare, made up hilarious dance moves, and had so much fun!

It was the best 14th birthday party ever.